Guide to using the Hubstaff Payroll feature
Hubstaff makes team payments easy and simple. Our payroll feature connects the following popular payment gateways to Hubstaff: Hubstaff Pay, PayPal, TransferWise, BitWage, Payoneer, and Gusto.
With our Payroll feature, employers can make manual or automatic payments, or simply mark hours as paid and pay outside of Hubstaff. You can also choose to enable timesheet approvals to have the ability to review your team's time before automatic payroll is processed, and/or delay your entire payroll altogether.
These settings are managed on the Financials > Payroll tab on your Hubstaff dashboard.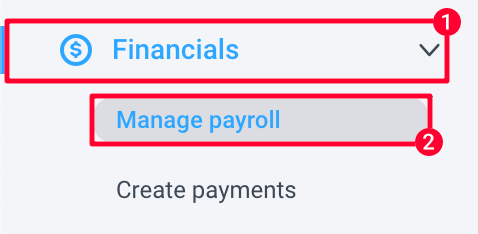 The payroll feature is available on Premium plans and up.
Hubstaff does not store any funds. Payments are sent directly from the organization owner's payroll account to the user's receiving payroll account.
---
Table of contents
---
Adding payment methods
Adding a payment method (Owner)
First, you will need to set up a payment account. This can be accessed by navigating to Financials > Payroll.
Next, click the Add Integration button.
The following guides help you set up your payment account through your preferred payment gateway:
Adding a payment method (User)
Note: Bitwage and Payoneer user payment accounts can only be added by the employer from their payroll page. If you're using Bitwage or Payoneer, please contact your employer to add your payment account to their payroll.
Next, you can instruct your team to add their own payment accounts, which can be accessed by clicking on their avatar at the upper right-hand side of the page and then choosing Payment Accounts.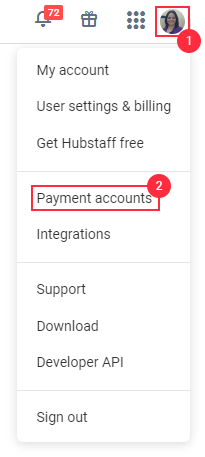 Click on Add default payment integration. Then, you'll be asked to select the type of payment integration. Click the Setup button next to the payment gateway you wish to add.
---
Automatic payments
Add and Enable users for payroll
To add a user to your payroll, go to Financials > Payroll then click on the Add member to Payroll button.
The Add Member to Payroll dialog box will appear as shown below:
Member – select the team member you want to add to your payroll.
Pay Period – choose from Weekly, Twice weekly, Bi-weekly, Monthly, or None (for manual payments).

Weekly: Every org week start date.
Bi-Weekly: Every other org week start date (For Bi-weekly payments you will have the option to choose from two pay periods)
Twice per month: 16th and 31st of the month
Monthly: 31st of the month

Require timesheet approval – enables the timesheet approval function. Note that the payroll will not run even when set to automatic payments until timesheets are approved when timesheet approvals is activated.
Pay Type – hourly or fixed payments.
Pay Rate – the rate for your employee.
Bill Rate – the rate you can bill your client.
Automatic payments – for team members to receive funds, this setting needs to be enabled, otherwise, hours will only be marked as paid, and no actual payments will be sent.
Email – enter your employee's payment email ID.
When the Require timesheet approval setting is enabled, a new timesheet will be created for the user via Timesheets > Approvals.
Once you have added a user to payroll, they will be disabled by default, unless the Automatic payments check box is activated. An email will be sent to them and will ask them to connect their payment accounts, which will enable their accounts so they can get paid.
If the employee's payee account is already connected and enabled you can quickly disable/enable them by clicking on the Actions button on their payee account under Financials > Payroll. Likewise, you'll have the option to edit their payment account or remove the user from payroll.
This is also explained here: https://support.hubstaff.com/enable-users-payroll/
Note: users will NOT receive manual or automatic payments when automatic payments are disabled.
Setting up your payroll for automatic payments
You can set up payments to be automatically processed based on specific pay periods. Here is our complete guide on setting up automatic payments: https://support.hubstaff.com/automatic-payments-payroll/
Additionally, you'll need to enable Automatic payments via the Settings & Policies > Features > PAYMENTS page as shown below.
Timesheet approvals
---
Timesheet approvals allow you to review your team member's timesheets before processing them for payment.
To enable timesheet approvals, you have 2 options:
From the Members page:
On the People > Members page, click the pencil icon under the Payment column next to the team member's name.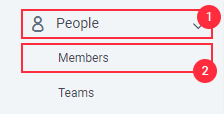 The Edit member window will pop up, then set a Pay Period, and Pay Type. Enable the toggle on Require timesheet approval and add in the user's Pay Rate, Effective date, and Bill Rate.
Once all details have been added, in the right upper corner of the page, click on "Save Changes"
Go to Financials > Payroll, then next to the team member's name, click Actions > Edit payment details.
Make sure Require timesheet approvals option is checked.
To learn more about the Timesheets Approval feature, click here.
When timesheets are approved, submitted, or marked as paid, the date range covered on the timesheets will be locked from time tracking and team members will no longer be able to add more time until the next day.
Enabling timesheet approvals and pay periods would lock the time for automatic payroll and can no longer be paid manually.
Delaying payments
Employers can choose to delay their payroll to run after a certain number of days. To do so, go to Settings & Policies > Features > PAYMENTS, then set the number of days under the Send payments after field. Hit Save to save changes.
For example, if payroll is set to Weekly (paid every Monday), adding a 3-day delay would cause payments to run on Thursday every week.
---
Manual payments
Setting up your payroll for manual payments
To pay your team manually, a payment account must be set up for both the owner and the user and automatic payments need to be enabled for the user.
To set up manual payments, go to Financials > Payroll, next to your team member's payroll account, click on Actions > Edit payment details.

After clicking on Edit payment information, a dialog box will appear to update your employee's payment integration.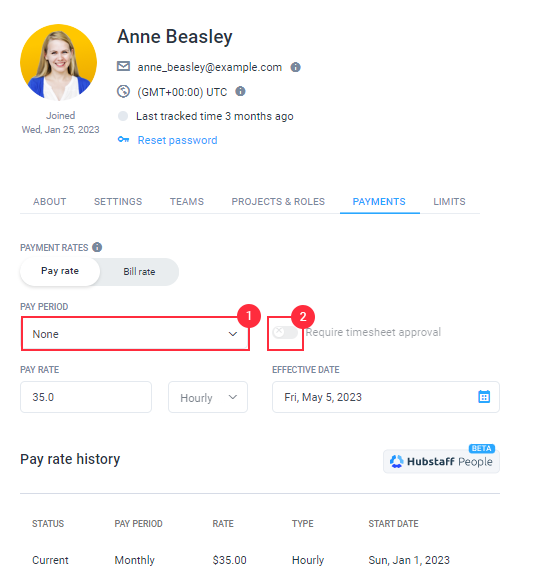 Make sure that the Pay Period is set to None and that Require timesheet approvals are not enabled. Setting a pay period and enabling timesheet approvals will cause all time tracked for that pay period to be included in automatic payments.
Now, on the upper corner of the page, click on "Save Changes"
Additionally, you'll need to select Manual payments via Settings & Policies > Features > PAYMENTS page as shown below.
Then, you'll be able to send manual payments by following this guide: https://support.hubstaff.com/send-payment-via-payroll-manually/
Marking hours as paid
Some employers opt to pay their team outside of Hubstaff and simply mark their team's hours as paid. Here's a guide on how to do just that: https://support.hubstaff.com/mark-work-hours-paid-timesheets-page/
One-time payments
Often, you'd like to make payments for your team that aren't related to their time. Some examples include bonuses, travel expenses, and rentals, among others. You can make these types of payments by utilizing our One Time Amount payment option. To do this, go to Financial > Send payments > ONE-TIME AMOUNT. Select the team member from the drop-down, enter the amount you wish to send then the reason, then click on Create payment.
---
Viewing unpaid hours
To view unpaid hours for your team, simply go to Reports > Amounts owed. Click on the Team tab to view unpaid amounts for your team or the Me tab to view your own unpaid hours. Next, click on the calendar to select the date range for the report. You may also click on the Filters button to be able to select which projects and team members you'd like to view data for.
After generating the report, you'll be able to view all unpaid hours and amounts.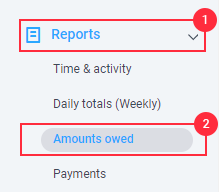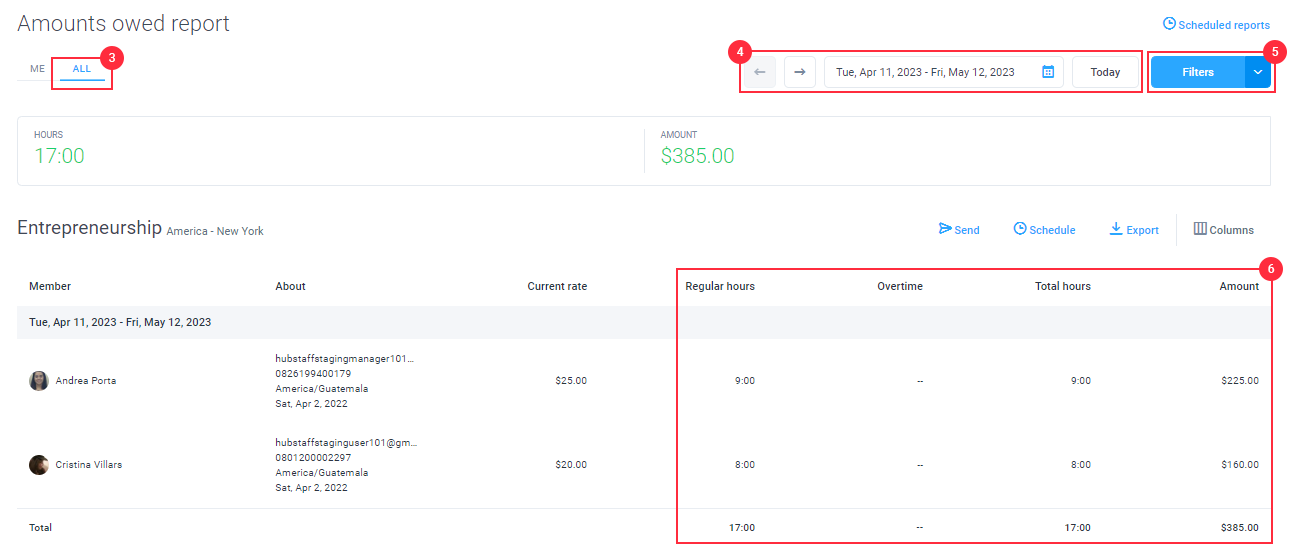 ---
Viewing past payments
To view your past payments, simply navigate to Financials > Past payments on your sidebar. A list of all the payments processed within your organization will be listed on the page.

---
Retrying payments
If for any reason your payment has failed or has encountered an error, you may choose to retry the payment. You can do this by clicking on the Past Payments tab under the Financials section on the left sidebar.  There, you'll see a list of your recent payments. Click on the Actions box next to that payment, and then click the Retry option.

---
Partial payments
When using our automatic payroll system, pay periods that contain payments larger than $10,000.00 will be partially paid.
For example; if you have an unpaid amount of $9,000.00 for day 1 and $1,000.00 for day 2, then that payment will be partially paid because it reached the payment limit of $10,000.00 per transaction. The team member will get paid $9,000.00 first, and the remaining $1,000.00 will be paid on the next payment attempt, which should be the following day.
You should see what payments were partially paid by clicking on Financials > Past payments on the left-hand sidebar menu.
Payment status will show as "Partial paid".

Click the Actions button and select View, you should see a detailed report for the partially paid payment and also when the remaining amount will get paid.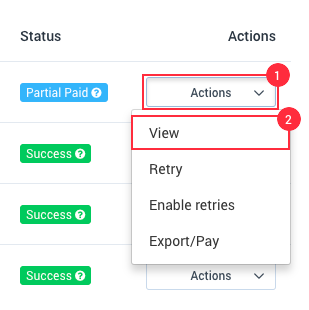 For frequently asked questions regarding our payroll feature, please refer here.