You may mark hours as paid either automatically or manually to make sure payments are reflected on the platform for record-keeping. Please click on a topic below to get started:
---
Table of Contents
---
Manually marking hours paid
If you just need to mark the past activity as paid, all you need to do is go to the Payments > Send page, then set the necessary filters. Click on the Send Payment button.
Next, click the Mark as paid button.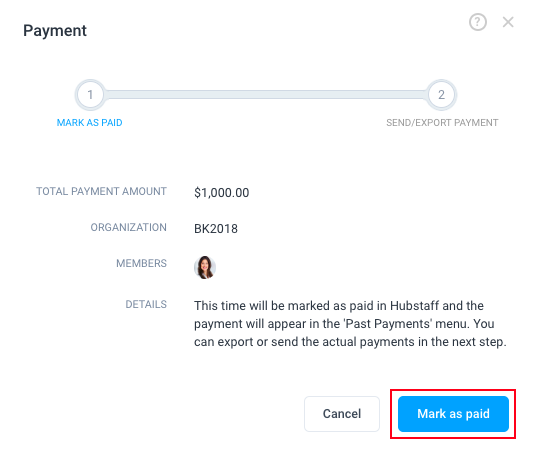 Then you should see a modal with different payment export options; You can select any one for exporting the payment record and click Download.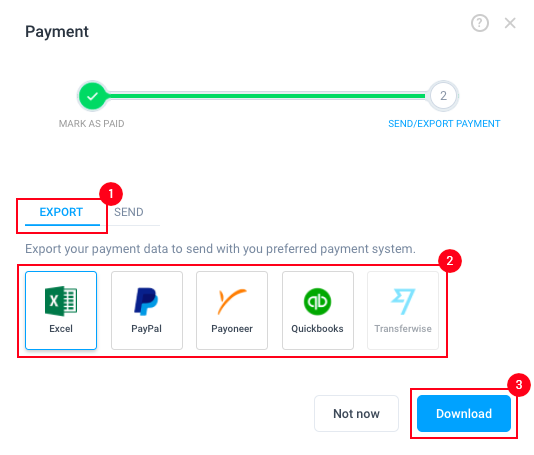 Past payments will be available on the Payments > Past page and here the status of a manual payment will be Pending and as you hover on it, you will see that it was a manual payment.
---
Automatically marking hours paid
If you want to mark hours as paid automatically based on a specific pay period, follow the steps below:
Click on the Members page and then the Pencil icon under the Payment column.
Edit the pay period to either Weekly, Twice per month, Bi-weekly, or Monthly and click Save.
After you have done this, at the end of those pay periods, the hours will be automatically marked as paid under the Payments > Past page.
---
Disabling automatic payments
Navigate to the Members page and click the Pencil icon under the payments column.
Change the pay period to None and click Save.
After adding this setting payments will no longer be marked as paid automatically on the Payments > Past page.The hours tracked by the users will not reflect on the Payment > Send page when the timesheet approval setting is enabled on their account.