---
With Hubstaff's payroll system, you may require employees to submit their timesheets for approval, as well as delay your payroll for your team.
The Timesheet Approval feature allows owners and managers to double-check time entries before they are sent to be processed for payroll and the payroll delay feature can provide additional time to review timesheets prior to approval and payment.
Hubstaff's timesheet approval feature is only available on Premium plans and up. For more information about the differences in feature sets for each plan type,
click here
.
---
Table of Contents
Manage timesheets
Submit timesheets
---
Delaying Payroll
You can now delay automatic payroll. This will give you more time to review your employee's work hours and approve or deny their timesheet before payroll is processed.
To set your timesheet approval settings go to your organization's settings by clicking on Settings & Policies > Features from the sidebar menu.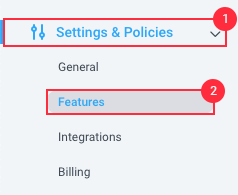 Next, navigate to the PAYMENTS tab, where you can to specify the number of days you want the payroll to run by the end of the pay period (i.e. how many days you want to delay the payment) then hit Save.
Example: If you've set a 2-day delay on your payroll, and the payroll is scheduled to run on April 19, the payroll payment would be processed on April 21st, 9:00 pm UTC (depending on how many payments are being processed in Hubstaff, it could take longer).
---
Setting up pay periods and requiring timesheet approval
When timesheet approval is enabled for your team, you'll be required to review their timesheet before their payroll is processed. To enable this feature in your organization you'll need to access the People > Members page on the left sidebar. Then, you want to click on the pencil icon under the payment column in line with the name of the user you wish to enable timesheet approval for. On this page you can set up each user's pay type, pay rate, pay period, and enable timesheet approval individually.
Members page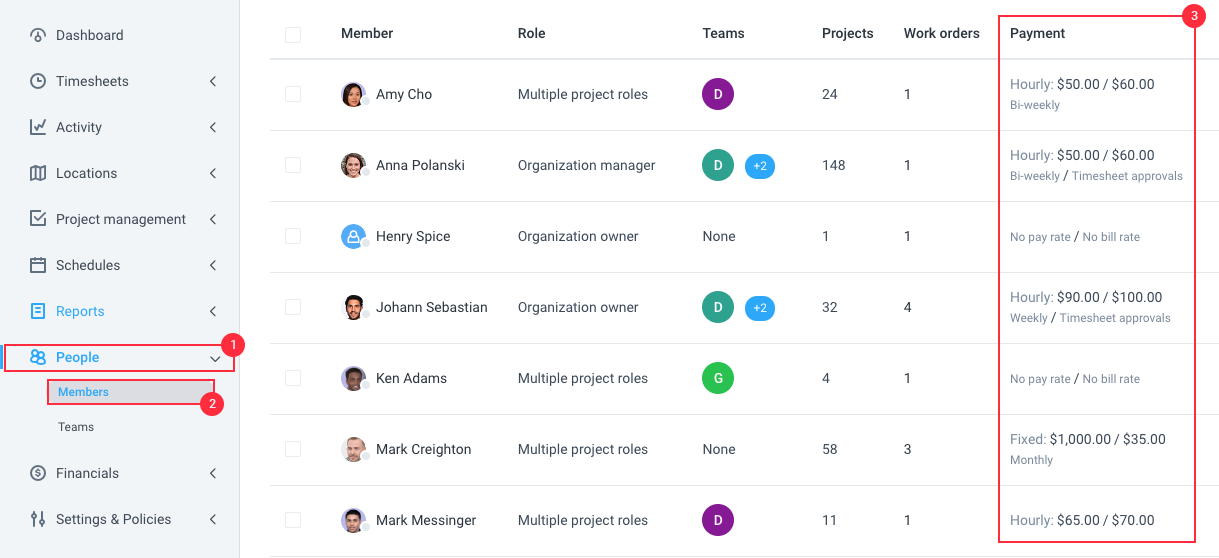 User payment information
Once timesheet approval is enabled for your users, payment details (pay periods, pay type, and pay rates) will sync with payroll automatically. If you haven't set up automatic payroll in your organization, then here's a guide that will help you set that up.
Bi-weekly pay periods allow specifying the week you wish to start the pay period for that user.
---
Viewing, approving, and denying timesheets
Team member timesheets can be found on the approvals page, under the Timesheets > View & edit menu, located on the left sidebar.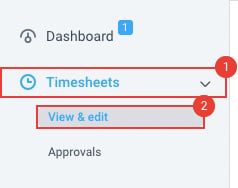 You'll see how much time was logged and the corresponding activity levels within a specific pay period. There's also a status column that will help you identify when a timesheet is open, submitted, approved, denied, or paid. Click on the Actions button right next to a user's timesheet to view, approve, or deny the timesheet.
IMPORTANT:
Once a timesheet is submitted users will no longer be able to add/remove time from their time included on the timesheet (Time will be marked as
locked
). You will receive a notification when you approve a timesheet before the pay period ends.
When a timesheet is approved before the pay period ends, a new timesheet for approval will be created for the remaining days of the pay period on the next day.
On the user's timesheet, you'll be able to see:
Time totals – includes total time worked, PTO (Paid Time Offs), Holidays, and the total amount of the timesheet.
Approve/Deny buttons 
Previous/Next buttons – toggles through previous and succeeding timesheets.
Users must have a
pay rate
set for the Holiday hours to show up on the timesheet review page.
---
Submitting & un-submitting timesheets
To submit your timesheets, navigate to Timesheets > Approvals, located on the left sidebar. Press the actions button to expose the submit or the unsubmit (if applicable) button.
Submit
Unsubmit
Timesheets that are not approved will not get paid through payroll.
A user's timesheet will get paid through payroll, without approval, when 'require timesheet approval' is not enabled on the Members page.
When a timesheet is already approved or submitted, the user will no longer be able to modify the time included on the timesheet.
A new timesheet will not be created unless the previous timesheet is approved.