Hubstaff supports automatic and manual payments through Payoneer. Payoneer provides companies, corporations, and marketplaces with cross-border payment needs, to transfer funds to large numbers of beneficiaries in more than 200 countries, in 150+ currencies.
This guide is for organization owners looking to connect their Payoneer accounts to pay their team. If you are a user and want to connect your Payoneer account to get paid, please see this guide.
Please read these important steps first – they are required in order to make payments through Payoneer.
Once Payoneer creates the account, save your account information. (The registration process can take up to a few days.)
Add funds (USD) to your account balance.
The minimum monthly payment requirement for Payoneer is $30,000.
The minimum payment per transaction is $20.
Note from Payoneer: starting on October 19, 2021, we will be collecting a 3.00 USD loading fee from users when disbursing payouts.
Now that you have a Payoneer account, follow the steps below:
First, make sure that you have selected the right organization on the top right corner of the page. Click on the Financials tab on the sidebar menu, then click Payroll and then Add integration.
Under Payment processors, select Payoneer.
Click Payoneer, and you will be able to enter your Payoneer Program ID, Client ID, and Client Secret: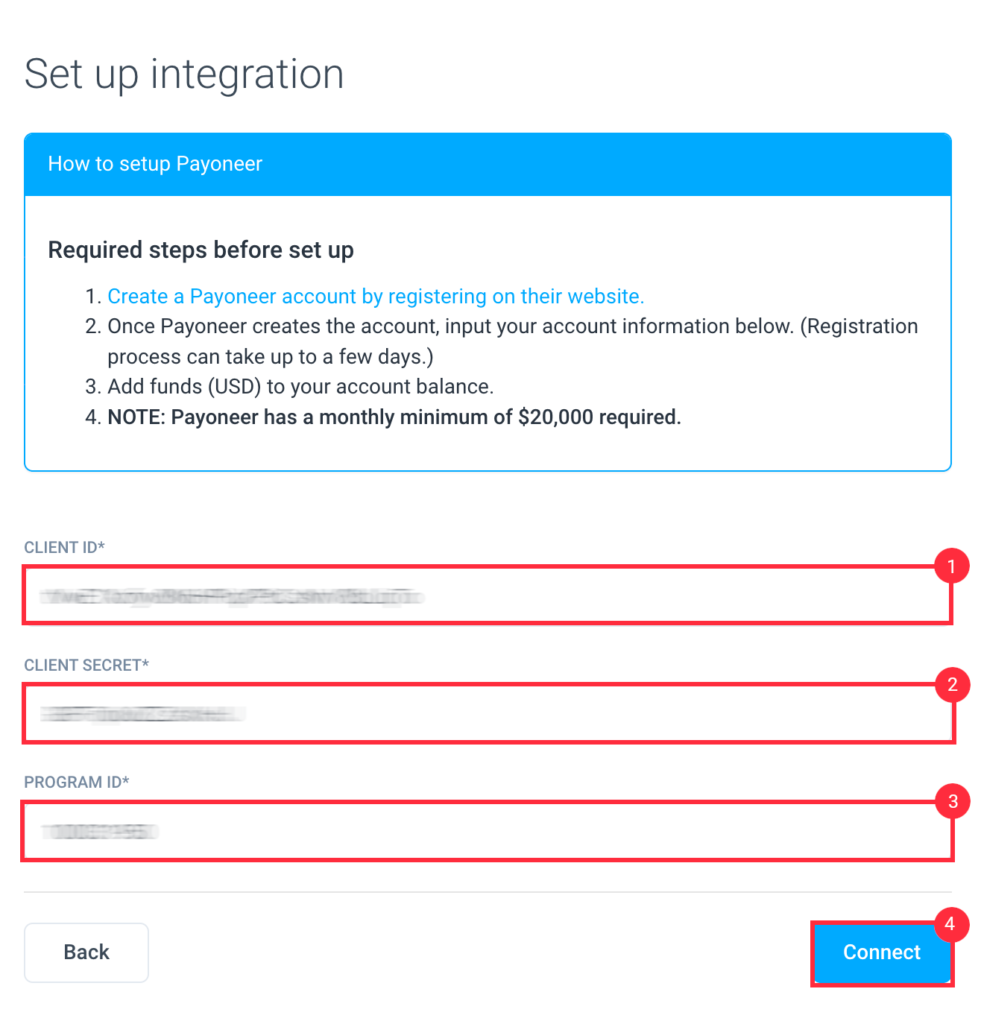 You can find your Program ID in your Payoneer account in the upper-right-hand corner, just above your company name.

To get your API Credentials, email integration@payoneer.com and be sure to let them know that:
You're a Hubstaff customer.
You need the API calls enabled for your Payoneer account.
You need to know your API Credentials.
Your Program ID will be emailed to you by Payoneer when you finish filling out the form.
Place a checkmark on the users you wish to add to your Payoneer payroll, then click Finish.
Once you've filled out all the fields, click the Connect button to authenticate your account. You will now see your Payoneer account listed under your payment accounts.
Navigate to Financials > Payroll, then click on Add member to payroll and select Payoneer:
A pop-up dialog will appear where you can fill in the following details:
Member
Pay Period – choose from any of the available options below:

Weekly: Every Monday (or the set organization week start day)
Bi-Weekly: Every other Monday (Or the set organization week start day. For Bi-weekly payments you will have the option to choose from 2 pay periods)
Twice per month: 16th and 31st of the month
Monthly: 31st of the month

Pay Type – can be set to Hourly or Fixed payments.
Require timesheet approval – enables the Timesheets approval feature for this employee.
Pay Rate – this is the rate you will pay your team member.
Bill Rate – this is the rate you can bill your clients.
After successfully filling in the required details, hit Save.
After adding the team member to your payroll, they will receive an email letting them know they need to add their Payoneer credentials. Until the team member adds their Payoneer credentials, they will appear on a "pending" state in your team member list:
Once the team member has added their credentials, you will be able to enable them for Automatic or Manual payments through Payoneer.
See how to enable users for payroll >>
---
Adding funds to your Payoneer account
In order to disburse payments, you will need to fund your account. This can be done by sending a wire transfer to Payoneer from your bank account or by funding your Payoneer account with your debit or credit card.
To fund your Payoneer account by transfer from a US Bank account:
Select Fund via US Bank Transfer from the Payments menu.
Enter the last 4 digits of your account at Payoneer.
Enter the amount in USD that you wish to transfer.
Click on the Continue button.
To send a wire transfer to Payoneer, you will need to use the account funding details received from our Account Management Department when your partner account was enabled. If you no longer have the account funding details, please contact the Payoneer Account Management Department at clientservices@payoneer.com.
You can use Payoneer's Notification Alert (under
Advanced Settings
) for a minimum balance threshold.
For frequently asked questions regarding our payroll feature, please refer
here
.