---
Hubstaff makes automatic payments and payroll easy.
To get started, click on Financials > Payroll on the left menu, and make sure that you are on the right organization by checking the top left corner of the page and you'll see which organization you are currently managing.
---
1. Setting up your Payer account (Owners)
First, you will need to set up a payment account. The following guides detail how to set up your payment account through your preferred payment service:
---
2. Setting up Payee accounts (Users)
For organization owners – Learn more about How to enable your users and the different payment settings
Once you have enabled your team members for payroll, you will be ready for automatic or manual payments.
---
3. Enable users for payroll
Once you have added a user to payroll, they will be disabled by default. An email will be sent to them and will ask them to connect their payment accounts, which will enable their accounts so they can get paid.
If the employee's payee account is already connected and enabled you can quickly disable/enable them by clicking on the Actions button on their payee account under Financials > Payroll. Likewise, you'll have the option to edit their payment account or remove the user from payroll.
This is also explained here: https://support.hubstaff.com/enable-users-payroll/
Selecting payment frequency and editing pay rates
Click on Payroll on the sidebar menu and edit your user's payroll setting by clicking on the Actions button then on Edit payment information.
You'll get prompted by a dialogue with the options to choose automatic or manual payments, change the payment frequency, the pay period, the pay type and the user's pay rate.
You can choose one of the available pay periods below:
For months not ending on the 31st, the pay period ends on the last day of the month.
If you choose Bi-weekly payments, you will have the option to choose between two start-on dates (pay periods).
---
How do I view unpaid hours for users?
To view how much you owe people for various date ranges, you can click on Reports > Amounts Owed. From there, you can set a custom date range to view the unpaid amounts and how many hours they've worked during your selected dates. You can also click on Filters to apply filters to the report.
Clicking on Filters will let you filter the time by project or team member. You can also toggle the Sum date ranges setting to view totals.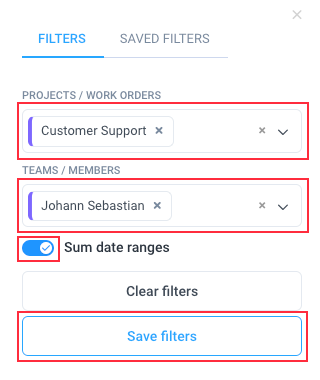 ---
How do I view past payments?
To view the past payments you've made, go to your Financials > Payroll page. You'll see all the historical data for your previous payments.
---
How do I pay users manually via payroll?
To pay users manually via payroll, click on Send payments under the Financials section.  You'll be able to select a custom date range, and filter to specific projects or users you'd like to pay then hit Apply.  Once the hours you wish to pay are visible, you can click on the Send payment button.
You'll see a pop-up window asking you if you want to mark the hours as paid.
After that, you'll be asked which payment integration you'd like to use to make payments for your team member. Select the payment merchant you'd like to use, then click on Send payment.

The payment request will get sent and the user will get paid shortly.



---
Paying contractors in different countries
Hubstaff offers support for different currencies (you can only have one currency per organization). The currency that you have enabled in your organization needs to have sufficient funds in that specific currency in order for Payroll to be successful.
Example:
Your organization's currency in Hubstaff is set to PHP. You are trying to pay your team for their work done and the total payment is ₱400 PHP.
In your payment account, you have $1000 USD and ₱200 PHP.
This payment would fail because there are not sufficient funds in the correct currency in the payment account. In order for this payment to be successful, you would need to ensure that your payment account either has $400 PHP OR you would need to change your Hubstaff organization's default currency to USD so the USD funds from your payment account would be used.
If you send a payment in a currency different from the person getting paid (i.e. the organization currency is set to USD, employee's currency is PHP). That person won't incur any fees, however, there are conversion rates. The receiver would pay for that – and actually no one really "pays" for it.  The exchange rate is just the exchange rate.The receiver will end up getting a little less because of the currency exchange rate. Whichever payroll option you are using will do this conversion automatically.
For frequently asked questions regarding our payroll feature, please refer here.
---
More About Team Payments