Setting up your Wise Payroll
This guide is intended to help teams process payroll seamlessly using Hubstaff's Wise integration (formerly TransferWise).
If you are a team member (User) within your organization, and you need help setting up your Wise account to receive payments, please see our guide here.
This feature is available on Premium/Pro plans or higher.
Each individual Wise payer account can only be used on one Hubstaff organization.
For more information about how to pay your team, click here.
---
Table of Contents
---
Setting up Wise for your Organization
Navigate to sidebar, then click Financials > Payroll, click on Manage integrations , and then Add integration.
Alternatively, you may navigate to Sidebar > Settings & Policies > Integrations, and click on  Add integration.
Select Wise from the Payment processors list.
Make sure you meet the requirements for the setup and that you are logged in with your Wise account, then select Connect.
Required steps before setup
Note: If you are a U.S.-based company sending money to recipients in USD, please contact Wise support to unlock that feature. See the details here.
Ensure Wise account is set up as a business account.
Enable two-factor authentication for the account.
Create a balance on your account with the same currency as the organization.
Fund the balance account (since it cannot pull from a bank account or credit card).
Note: the screenshot below shows USD, because the example organization's balance was in USD, you will see another currency (see p. 3) if your organization's currency is different.
Login to your account and click to activate the email transfer feature*.
Our integration with Wise currently does not support ACH transfers using USD so make sure you have funds in your borderless account.
* While being logged in to your Wise account, click the link. It won't show any message that the feature has been activated, but it should work.
After logging in, you'll be asked to choose which account you'd like to connect. Please make sure to select your Wise business account – personal accounts cannot process payments.
Click the Give access button to provide Hubstaff authority to access your Wise account.
Select your Wise business account on the Hubstaff integration page, then click Save.

Personal accounts are not eligible to make employee payroll.
After choosing the Wise account, you can configure which users you'd like to add to your Wise payroll, then click Finish.
Finally, navigate to your Wise integration's Settings page to configure if the receiver or the sender pays the transfer fees.
Accepts: Bank transfers for deposits into Wise balance. Business accounts are required to make transfers.Transfer fees vary per country and currency. Typically less than 1% of total transfer amount. Please contact Wise support to learn more.You will need to have at least one business account on your Wise in order to set up this payment account.
Adding a member to payroll
Navigate to Sidebar > Payments > Payroll. Click on the Add member to payroll.
Enter the following information:
Pay Period (Weekly, Bi-Weekly, Twice a month, Monthly)
Pay Type – can be set to Hourly, or Fixed payments
Require timesheet approval – works with the Timesheet Approval feature
Pay Rate – the rate you'll pay your employee
Bill Rate – the rate you can bill your client
Wise e-mail address
Wise name
Wise Currency
Hit Save to complete the setup.
After saving, your employee's payroll account should be set up:
Certain currencies might not support email transfers. Users can't make transfers to an email address or a primary account when sending from BRL, or if you are sending to PEN, BDT, COP, CNY, INR, UAH, or USD to a bank account outside the US.Some business transfers are restricted by Wise. Click here to learn more.
The Wise API only supports email transfers. Bank transfers are not supported.
If you choose Bi-weekly payments, you will have the option to choose between two start on dates (pay periods).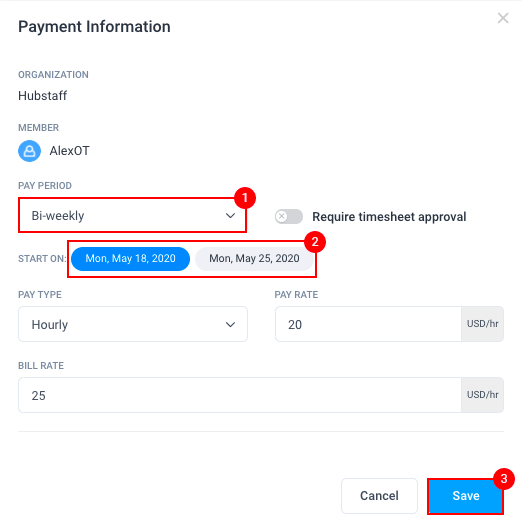 Accepting Wise transfers as a member
There are two approaches to how to accept incoming transfers.
The first approach: via Wise's bank details to Wise balance
We advocate for using this approach.
These are the steps that this method implies:
Get the bank details from Wise.
Accept the money using the bank details provided by Wise and eventually get it on your Wise balance.
Convert it to the local currency (from one Wise balance to another) if needed.
Send funds to your local bank (if needed) or just spend the money using a Wise card (if you have one).
Example:
Your organization has USD set as its currency. The owner sends a transfer in USD, and you get the email to accept it. The procedure is straightforward: please, fill the form with the bank details you get from Wise. After that, the money will land up on your Wise USD balance. If needed, you may convert it to the currency of your choice, e.g., PHP, and send a transfer to your local bank where you have your account in PHP.
Please click here to learn more about how to prepare your Wise account for payroll. Each member needs to create a Wise borderless balance with an associated bank detail as shown below to receive funds in the same currency. To get bank details for your borderless account balance, click on the currency on your Wise sidebar then click on the Get bank details button.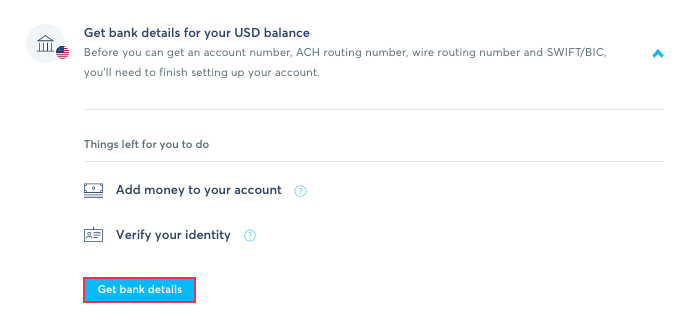 If your organization sends USD to you, you have to fill the form to accept USD overseas every time due to legal restrictions.
The second approach: accepting a transfer to your local bank directly
In some cases, getting the bank details for accepting the money in your organization's currency isn't available in your country, e.g., USD bank details are only
available in these countries
. Here are instructions on how to accept payments to your local bank account:
Click on your avatar located in the bottom left corner of your dashboard, then select Payment accounts from the pop-up menu. There, if you don't have a Wise account yet, please, add it as shown in this article.
If you have it, click Edit, and make sure that you have your local bank's currency selected under Wise Currency.
Once done, you will need to accept the incoming transfers directly to your local bank. If you mark your account as primary and add the local bank details to it, you won't need to fill the acceptance form every time.