Setting up your Transferwise Payroll
This article is intended to allow you to process payroll seamlessly with the members in your organization using Hubstaff's Transferwise integration.
If you are a team member (User) within your organization and you need help setting up your Transferwise account receive payments, please see our guide here.
This feature is available on Premium plans or higher.
For more information about how to pay your team,
click here
.
Table of Contents
Setting up Transferwise for your Organization
Select the Payments tab, Payroll, and then Add integration. If you already have another payroll account connected, you can click on "Manage integrations" located at the top right corner of the page.
Alternatively, you can navigate to Integrations -> Add integration.
Select Transferwise from the Payment processors list.
Make sure you meet the requirements for the set up and that you are logged in on your Transferwise account, then select Connect.
Required steps before set up
Ensure Transferwise account is set-up as a business account
Create your borderless account with the same currency as the organization
Fund account (since it cannot pull from bank account or credit card)
USD funds are needed in Transferwise balance
Login to your account and click to activate the email transfer feature.
Our integration with Transferwise currently does not support ACH transfers using USD so make sure you have funds in your borderless account.
It will then ask you to Allow Hubstaff to get your information on Transferwise.
After choosing the Transferwise account, you can configure which users you'd like to add to your Transferwise payroll.
Accepts: Bank transfer for deposits into Transferwise balance. Borderless account funds are required to make transfers.
To see what transfer fees you can expect to have while using the TransferWise integration, please click here to visit the official pricing page.
 You will need to have at least one account on your Transferwise in order to set up this payment account.
Adding Member to Payroll
Navigate to Payments -> Payroll.
Click on the Add member to payroll button.
Enter in the following information:
Pay Period (Weekly, Bi-Weekly, Twice a month, Monthly)
Pay Type – can be set to Hourly, or Fixed payments.
Require timesheet approval – works with the Timesheet Approval feature.
Pay Rate – the rate you'll pay your employee.
Bill Rate – the rate you can bill your client.
Transferwise e-mail address
Transferwise name
Transferwise Currency
Hit Save to complete the setup.
After saving, your employee's payroll account should be set up:
Certain currencies might not support email transfers. Users can't make transfers to an email address or a primary account when sending from BRL, or if you are sending to PEN, BDT, COP, CNY, INR, UAH, or USD to a bank account outside the US.
Some business transfers are restricted by TransferWise. Click here to learn more.
The Transferwise API only supports email transfers. Bank transfers are not supported.
If you choose Bi-weekly payments, you will have the option to choose between two start on dates (pay periods).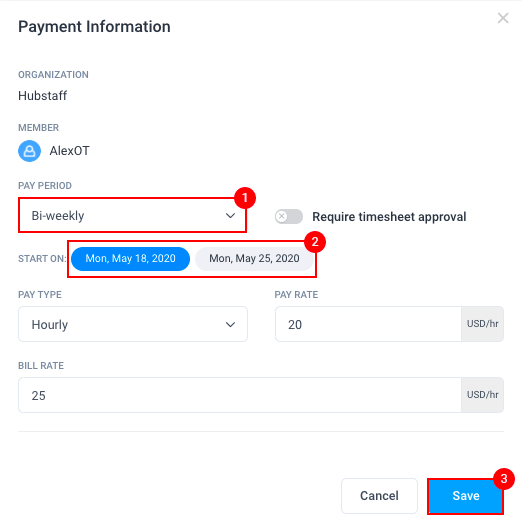 Transferwise requires that a bank account is set up in the balance currency you are receiving from. Please click here to learn more about how to prepare your Transferwise account for payroll. Each user needs to create a Transferwise borderless balance with an associated bank detail as shown below to receive funds in the same currency. To get bank details for your borderless account balance, click on the currency on your Transferwise sidebar then click on the Get bank details button.