---
Working with schedules in Hubstaff is easy! Read our comprehensive guide to learn more about how the schedules feature works in Hubstaff.
Schedules are available on Premium/Pro plans and up. Please click
here
to learn more about Hubstaff subscription plans.
Only organization owners and managers are able to create schedules for users on the organization.
---
Table of contents:
---
Getting started with Hubstaff schedules
To get started, click on the Calendar > Schedules tab on the left sidebar.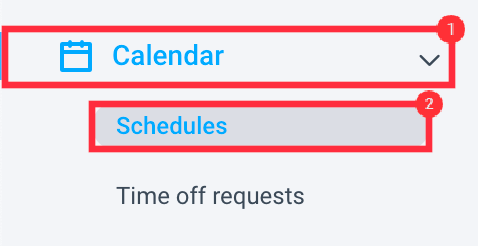 Schedule filters
Events filter
The Events filter allows you to filter the calendar by holidays, jobs (associated to work orders), scheduled shifts, and time offs.
Members filter
The Members filter lets you filter the schedules page by teams, or specific team members.
Month/week/day filter
You can also filter the calendar by month, week, or day, making it more convenient to view the specific schedules you'd like to see displayed on the page.
Calendar filter
You can navigate to previous or future months/weeks/days using the navigation arrows. You can also change the timezone where the schedules are based in by clicking on the timezone dropdown located on the far right side of the date selector.
View filter
The View by filter allows you to choose whether you'd like to view schedules by time (broken down every hour) or by team member.
---
Creating a New Schedule / Shift
To create a new schedule, click on Actions > Create shifts to create a new schedule for a user.
Next, fill in the details below:
Username
Shift Duration

From Date
Shift Start time
Shift End time
To Date

Timezone

Organization timezone
Member timezone

Minimum Hours – the minimum hours a user is required to work (for example if their shift runs from 9am to 5pm (8 hours) with a 30 minute lunch break, you can place 7.5 minimum hours.
Recurring Shift Options

Never
Weekly
Bi-Weekly
Repeats Until – the last day the recurring shifts are applied.
Days – select the days the shifts will repeat.
Click on Save to save changes.
DST changes will depend on the timezone set during schedule creation.
After creating a schedule, you will see the schedule plotted on the Schedules screen:
Month view
Week view
Day view
---
Deleting Shifts
Once the shifts are deleted they are permanently removed from our server and cannot be recovered.
You can delete a shift two ways:
Delete by clicking on a shift
First, by clicking on the shift, then clicking the Delete button.
After clicking on the shift, you will receive a popup window where you can Delete or Edit the schedule. Click on Delete to remove the schedule. You'll then see the option to either delete that specific shift or all the shifts in the series:
Delete via the actions menu
To delete a shift, you can also do so by clicking on Actions > Delete shifts.
A dialog box will open where you can choose a specific member (or multiple team members) and:
Delete all future shifts
Specify the date range where you want the action to apply
Delete all future recurring shifts
Press the Delete shifts button to confirm.
---
Monitoring Schedules
Hubstaff's attendance scheduling is powerful because it allows you to always know when your employees are working during their shifts or not. You no longer have to chase employees down to find if they were working or not.
Here are the three types of Schedule notifications:
Late Shifts
If the user doesn't start tracking time within the first 5 minutes (or depending on the grace period setting, can be extended to 10, 15, 20, or 30 minutes) of when their shift is scheduled to begin, they will be counted as late and a notification will be sent as soon as our the app uploads data to our server.
You can change the Grace period setting by navigating to Settings & policies > Features > Schedules > Grace period.
Missed shifts
Each team member will receive a missed shift notification if a team member doesn't track any time during their shift when their shift ends.
Abandoned Shifts
A team member will receive an abandoned shift notification when they don't meet the minimum hour requirement set on a shift.
Team members receive notifications when a shift has been updated or added for them. As the organization owner, you will get summary notifications letting you know of all the late, missed, and abandoned shifts as well (similar to the work summary emails).
Work Breaks are not included in schedule computations.
Manual time changes (Add, Edit, Delete) affect the schedule computations and the shift is updated accordingly to the manual time change.
---
Notification Control
You can control the notifications in your organization settings by clicking on the Settings tab on the left sidebar. Then selecting Features from the drop-down menu. Go to the SCHEDULES tab, and you'll see the Shift Alerts option on the left-hand menu. You can then enable alerts for users and owners/managers, just users, or never. Like the other Hubstaff settings, you can set this at the organization level or at a user by user basis:
---
Calendar type
You can choose whether users are able to view 1) Only their own schedules/time offs, or 2) The entire team schedule and time off entries. To do this, Navigate to Calendar > Schedules > Actions > Schedule Settings.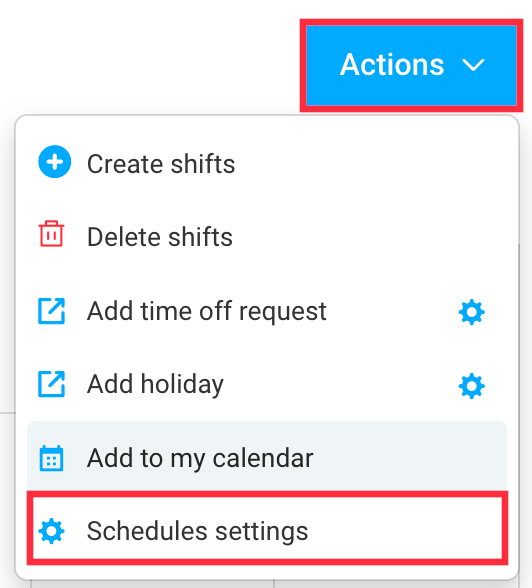 Toggling the setting to Private will let users see their personal schedules, and setting it to Collaborative will let users see the team schedules.
Team leads can access their assigned team schedules (
when allowed
).
---
Sync Hubstaff schedules to iCal
First, we'll need to copy the calendar feed URL by navigating to Calendar > Schedules.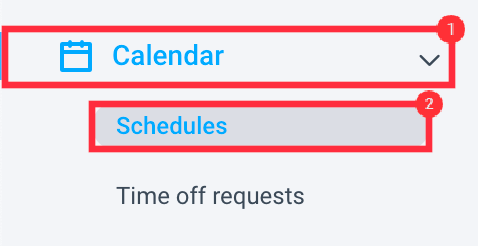 Then, click on Actions > Add to my calendar button located above your team schedules.
Next, click the Copy button to get the calendar URL.
Syncing Hubstaff schedules on iCal for OSX
Open the iCal app.
Navigate to File > New calendar subscription or press Option (⌥) + Command (⌘) + S.
Enter the iCal feed URL you copied from the schedules page, then hit Subscribe.
Syncing Hubstaff schedules on iCal for iOS
Open the iCal app.
Tap the Calendars button.
Next, click the Add calendar button.
Choose the Add subscription calendar option.
Enter the URL you copied from the dashboard calendar, then hit Subscribe.