To ensure accurate data recording for your team members, you can now enable desktop timer auto start/stop during their scheduled shifts. You can also specify start and end times on selected dates.
---
Table of contents
---
Adding an Auto start/stop timer policy
This feature requires that
desktop timer
versions 1.6.14 and above are installed and that the user is logged into the application and is running within the specified time range.
The timer will not automatically start if the application is closed.
In order to activate the automatic start/stop feature, check out the steps below:
First, navigate to Settings & policies > General.
Click on Timer & Tracking > Automatic tracking policy > Add policy.

Next, the Automatic timer policy dialog will appear. Fill in the following details:
Policy name
Teams/Members
Timer start/stop rules – can be set to either existing shifts, or a fixed schedule.
Don't start timer until first activity (optional) – recording will only start when the team member uses the keyboard/mouse.
Days of the week – specify the days of the week the timer will automatically start and stop as well as the start and stop times. Note: this follows the team member's (not the organization's timezone).
Starting project – here you can define what project the timer will track time to when it starts recording.
After saving, you'll see the auto start/stop timer policy you created.
After the policy has been set up, and during the designated time, the user will be prompted whether they would like to allow the timer to automatically start/stop.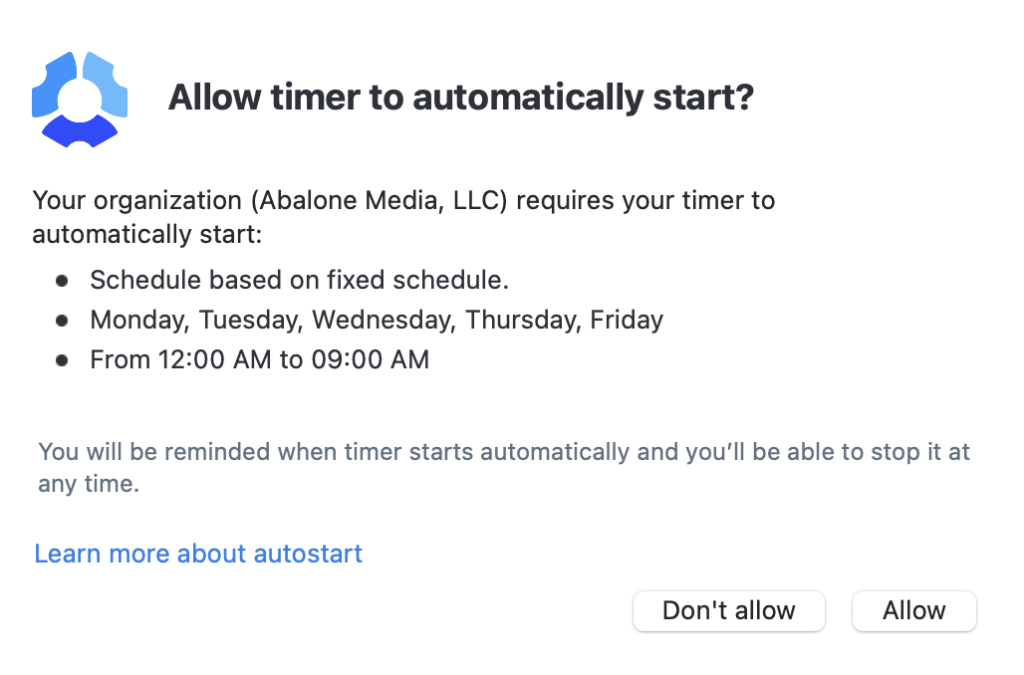 Once allowed, the timer will start and stop tracking time to the designated project as scheduled.