Posting a job on Hubstaff Talent is easy! This guide is for employers to hire freelancers by posting job opportunities. We want you to make connections to freelancers that will best fit the position.
This article will provide you the requirements to get your job posting approved. After approval your job posting will be active on the Hubstaff Talent job board. Hubstaff Talent is for jobs that can are remote work positions. Learn more…
Getting Started
First, you'll have to sign in to your account here, if you don't have one, you can sign-up here.
To add or post a job, you can click on the Post a Job button on the top right side of the site after logging in.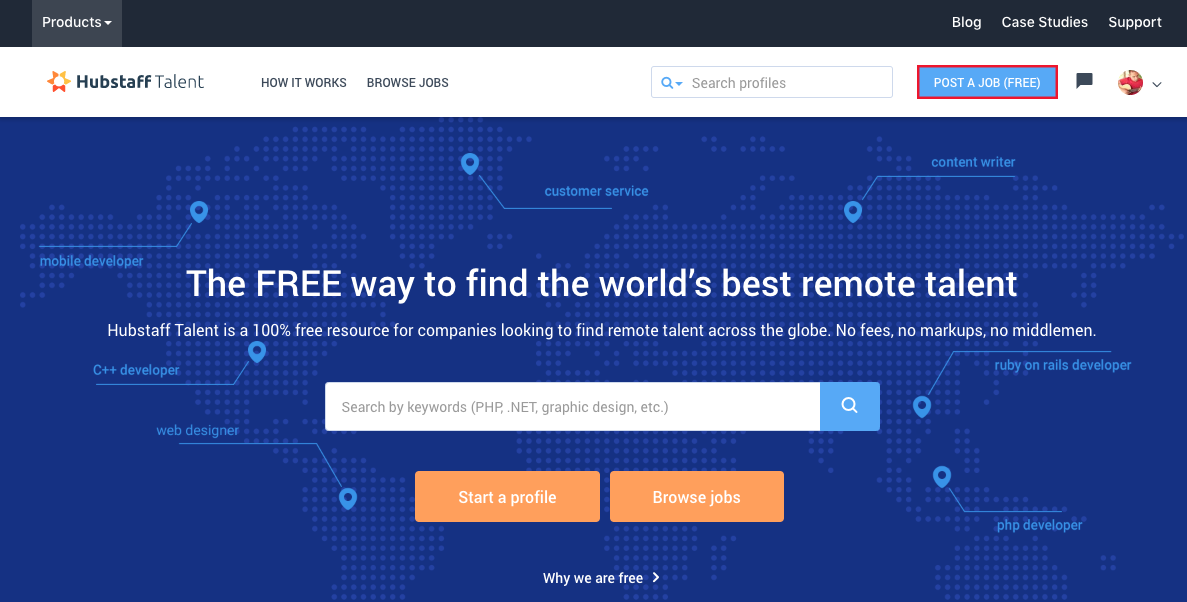 Another way to post or add a job is to post it from your jobs page. Access your jobs page by clicking on your avatar (your avatar is in the top-right corner of the screen). From here click on My jobs.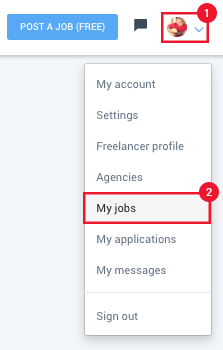 On the Jobs page, click on the Post a Job (FREE) button.
---
Build your Job Profile
To avoid job post rejection make sure to write it in English. We are trying to make everything on the site is using a common language. Most of our users speak English, it will help your job post get more views and attract more freelancers.
Tell us about your job
We only allow jobs from companies that are hiring direct. Links from job boards or recruiters are not allowed.
All job postings must be for remote work positions. Hubstaff will not approve posts for location or office position.
Job posts must be a posting for employment and not an offer of products or services.
Job title: (required) This area should define what position you wish to fill with a potential employee. Please avoid the following:

Titles in all caps,
Using non-common titles, such as "Support Ninja." revise these to more common titles like "Support Representative."
Special characters, punctuations or emoji.
Saying "needed," for example: "Accountant Needed"
Adding locations, or expected salaries (we have the pay rate section for this)

Examples: 

Ineffective: Become a Guru!

Effective:

Research Associate

Ineffective: Java, C#, SAP, Visual Basic 6, T-SQL, ASP, XM:, Software Engineer

Effective:

Experienced Software Engineer

Ineffective: Do you want to lead?

Effective:

Manager Trainee

Ineffective: Need a copywriter

Effective:

Creative Content Generator

Ineffective: Sales Rep

Recruiting language, such as but not limited to: "Apply now," "High Commission," etc. as these are considered as spam.

Effective: Dynamic Sales Professional

Job description: (required) This is a summary should include the following:

Provide an overview of the position in a brief paragraph
Summarize the personality characteristics of good candidates
List the position's responsibilities
List the position's job requirements
Make sure to use a spellcheck and grammar check service(s). This will make sure your job posting has proper grammar and formatting.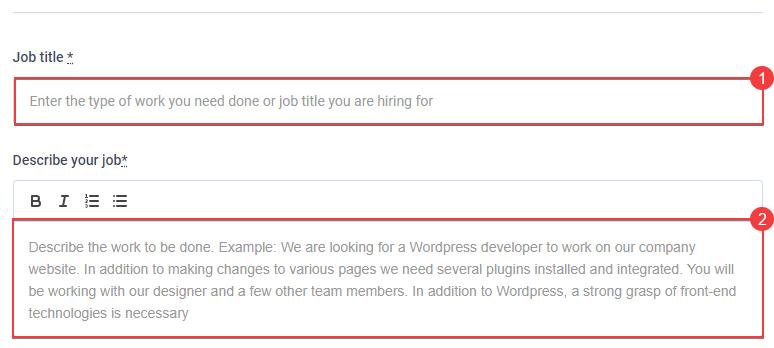 What are the job requirements?
Skills: (required) We recommend posting 5 to 10 key skills that you need from your potential hires.
Experience level: (optional) How many years experience should your freelancer to have?
Languages: (optional) List the languages you need your freelancer to be proficient in.
What does this job pay?
Job type: (optional) How much time do you want the freelancer to dedicate to your project(s)?
Pay rate: (optional) What wage do you want to pay for this position? You can leave this area blank if your pay rate is negotiable.
If listed, a pay rate of $2.00 USD or more is required.

What questions do you want to ask candidates?
We recommend you ask at least three questions. This can help to ensure you receive quality applications.
Questions: (required) You can select from the premade list of screener questions. Or you can create a customer questions for applicants. You can use a variety of question formats such as:

Yes or No questions
Short answer questions
Multiple choice
Asking a particular date or a number
Request a file upload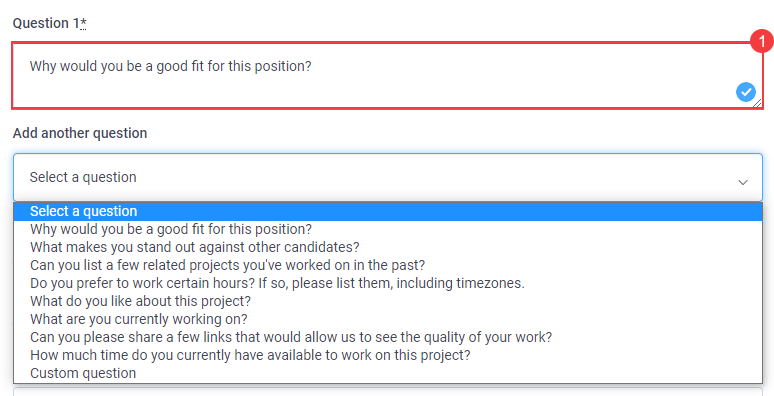 Tell us a little about your company
Hubstaff Talent requires a verifiable web presence and company. We do this to give freelancers a clear idea of who is hiring them. To verify your company online presence.
Company name: (required) Must be a valid and verifiable company name.
Company website: (required) Make sure your company website can provide the following information:

Physical address
Products or services offered
Contact information

Company country: (required)
Company state/region: (required)
Company city: (required)
Online presence will help candidates can learn more about your company. If you do not have a company website, a Facebook or LinkedIn. We require a real company name and a real URL. Even if it is for a subcontractor, you need to specify the company.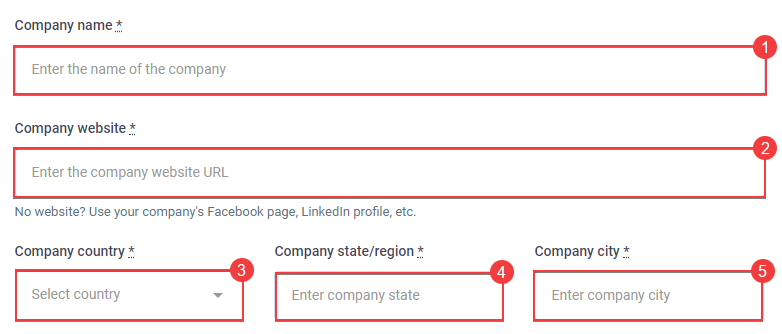 Job Visibility
Who do you want to see your job posting?
Everyone – Searchable in web browsers like Google Chrome, Firefox, and Safari. Your page will visible to any third party sites. This will increase the chances that somebody will find your profile while searching. Even though they may not be a member on Hubstaff Talent.
Only invited users – Not searchable in web browsers. Your job post is not seen in the major search engines. It will only be available to freelancers you invite to view the job posting in Hubstaff Talent.
Only me – Not Searchable in web browsers, only visible to you.

A pop-up dialog should appear that the job is pending review with our Talent moderation team.
---
Finish the Job Posting
You will receive an email notification as soon as your job has completed its review.
Upon clicking on View job, you'll be taken to the job page on Hubstaff Talent.
---
FAQ (Frequently Asked Questions)
Question:
How long does it take to approve my job posting?
Answer:
Our Talent Team reviews job posts as they come in (first in, first out). This usually takes 1-2 business days on average. Each job post undergoes a thorough review process. This is to help make sure all job postings meet our high standards.
Question:
Is there a fee to post a job?
Answer:
There are no fees for posting a job on Hubstaff Talent. It is a 100% free service that we offer both for the employer and the freelancer.
Question:
How do I find freelancers for my job?
Answer:
Posting a job on Hubstaff Talent will get your project in front of qualified freelancers. You will get applications for the job with the applicant's details and reasons why they are the best fit for the job. You can also search for freelancers and invite them to apply.
Question:
How do I pay freelancers?
Answer:
You can choose to pay freelancers inside or outside Hubstaff. If you use Hubstaff for time tracking. You can pay your team for their work through PayPal, Payoneer, or Bitwage. This will allow you to pay via credit card, debit card, wire transfer, and more.