You can now setup Hubstaff Pay to make your team payroll even easier! With Hubstaff Pay:
You can use the same credit card or bank account you use to pay for your Hubstaff subscription to make employee payments or add a new account.
No need to pre-fund your payment account.
Faster approval process than most payroll gateways.
---
Table of contents
---
Setting up your Hubstaff Pay Payroll account
First, go to Settings & Policies > Integrations.
Next, click on Add integration.
Scroll down to the Payment processors list, then choose Hubstaff Pay.
Click Next.
You will be asked to authenticate using your phone/email.
Next, you will see either see the current credit card/bank account you use to pay for your Hubstaff subscription. If you wish to use the same account, hit Save, otherwise, click Change to add a new payment method.
To add a new payment method, fill in the required information, then hit Save card.
Select the account you wish to use to make employee payments, then click Save.
Next, you can choose the team members you wish to add to the Hubstaff Pay integration. Click Finish when done.
After clicking Finish, users will receive an email with instructions on how to set-up their recipient accounts. Users will not be able to receive payments until a recipient account is set up.
---
Setting up your user payroll account
Users will have to set-up their own recipient payroll accounts once they are added to the Hubstaff Pay integration. To know if you've been added to Hubstaff Pay, you can check your email inbox for an email with the subject line "You were added to the [organization name] payroll."
To set-up your user account, follow the steps below:
First, click on your avatar located on the top-right corner of your Hubstaff dashboard, then choose Payment accounts.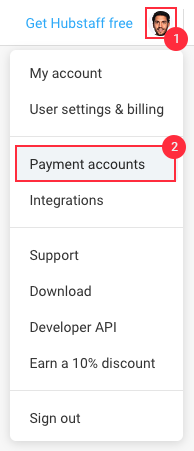 Next, look for the Hubstaff Pay integration on the integrations list and click the Connect button.
Choose your country, then click Connect.
Next, enter your email address and your mobile number, then click Continue.
You'll be asked to enter the verification code sent to your mobile phone number.
Choose your business type then click Continue.
This setup includes steps for individual users only. If you are a business receiving funds, please make sure you have the required documents to complete the setup.
Next, enter your details, then click Continue.
Choose either a bank account or debit card, fill in your particulars, then hit Save.
Click the Update button to add your verification details.
Choose how you'd like to verify your account, then click Next.
Choose the file you wish to upload.
After submitting your verification ID, click on Agree & submit.
Then, you'll be taken back to the Payment accounts page.
Make sure you have completed all the verification steps. It might take a while before your account is fully verified. Check back in a few hours to make sure that the verification has finished.