Table of Contents
Reauthenticate payer payment accounts
If you need to reauthenticate the credentials for the payment accounts that you use to pay your team in Hubstaff, please follow these steps:
Click on Financials on the sidebar then click on Payroll.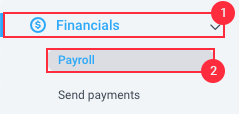 Choose the correct organization on the top right corner then click on Manage integrations.
Click on the Actions dropdown. Click on Reauthenticate, then all you need to do is to provide authorization to Hubstaff by connecting to your payment merchant.
Reauthenticating payee payment accounts
In order to update the credentials for the payment account that you use to receive payments in Hubstaff, just click your profile picture (upper right corner) and then click Payment accounts.
On the Member settings page, click the Reauthenticate button and update your payment account credentials accordingly.
If you need to add a new payment account to pay your team via our payroll system, please click here to learn more >>>
To compare different payment methods, click here.