Question:
How can employees report what specific activities or tasks they're working on, whilst tracking within a project?
Answer:
In Hubstaff, you can accomplish this through creating To-dos or adding notes.
Indicating activity by adding notes
Notes are a simple way to indicate what is being worked on whilst tracking against a project. Once notes are added, they will appear on a user's timesheet as per below.
All members of an organization can add notes. To add a note, simply click on the "Add Note" button within your tracker.
Adding notes directly from the tracker is not available via the web tracker.
Desktop App
The Add Note button is located at the top right hand side of the desktop app.
Mobile App
Likewise, tap the Note icon from your mobile tracker to add a note.
Chrome Browser
Whilst it is not possible to add a note directly from the Chrome extension, there is a Work Log button which will launch a direct link to your timesheets once clicked, notes then can be added from the Dashboard.
For a more in depth guide on how to add notes please see here.
Indicating activity by tracking against tasks
Creating Tasks within a Project is the most comprehensive solution to distinguish what is being worked on and completed when tracking.
When a project isn't linked to an integration users can add their own tasks.
Hubstaff also has a robust tasks management solution, packed full of features which can be integrated with Hubstaff. For more information please see our guide here.
To create simple To-dos from the Dashboard, please follow the steps below:
Navigate to the "To-dos" section from the main menu.
Click "Got it" to proceed to the next screen.
Next, select "Add a To-do".
A pop up window will appear. From this screen you can enter the name of your To-do and assign it to a User. Once created, your user will have the option to track their time against this newly created To-do.
How to select a Task when tracking time
For tasks to be recorded, users will need to ensure they are selecting the Task when tracking their time.
Desktop App
To select a task within the desktop app, first expand the window to reveal the Tasks pane.
Click on the play button next to the name of the tasks to track time against it.
Mobile App
To select a task from the mobile app, first tap on the arrow button to the right hand side of the Project.
A list of available tasks will appear. Tap on the name of the task. From there a play button will appear. To begin tracking time against that task, tap on the play button.
Chrome Extension
To select a task from the Chrome extension, first click on the Hubstaff icon from your Chrome browser.
Web Timer
Log in to your Dashboard and click on the web time icon.

Select a task from the drop down menu as shown below.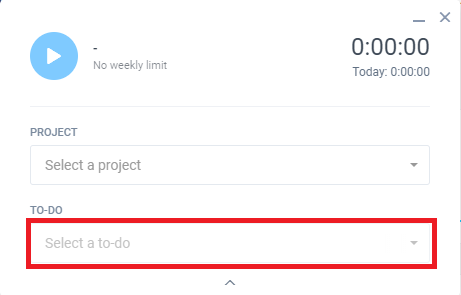 You will be able to see what task a user was working on by checking their timesheets.