This video is divided into chapters, to skip directly to the section for Adding Notes, click here
---
While tracking time, users can add work notes, which lets them provide more details about the tasks or projects they working on. They can add details such as client numbers, codes, incident numbers, request IDs, ticket numbers, and any supplementary information about the task.
Work notes can be extracted via the Reports, Activity, and Timesheets sections to help owners and managers collect the recorded note data.
These can be added on time tracker, or add them manually via different sections of the web dashboard.
Table of Contents
Adding Notes in the Desktop App
Once you have started tracking time to a project, click Add note.
Enter your notes and then click on Add note.
After clicking on Add note, your note will be added to the current 10-minute block of time.
Adding notes on the mobile app
Once you've started tracking time, click on the Add note icon from the upper right side of the application.
Enter your note and click Save to send the note.
Adding Notes to tasks in the Hubstaff App
Once you have started tracking time to a task, click Add Note and input the desired details.
Enter your desired note.

Please note it is not possible to add a note from the desktop app unless you are tracking time.
Adding Notes in Your Activity Section
Navigate to the Activity > Screenshots section. Click the pencil icon at the bottom of the segment of time you wish to add the work note for.
Click on the Add note button.
Enter your note into the modal box that appears and click Save.
Notes can only be added by the users themselves. This feature is not intended to be used as a discussion dialogue between managers and their teams.
This feature gives workers the option to add a description to their screenshot and give more detail surrounding each 10-minute segment of time.
A user can add multiple notes for each segment of time, Hubstaff does not limit the number of notes that can be added.
Viewing Notes in Your Activity Page
After a note has been added, clicking on the pencil icon will display a dialog box containing the note. Users can edit their notes from this screen if needed.
At the top of the Activities screen, you will also see a button labeled All notes.
When this button is clicked, it will launch a pop-up screen that contains all notes for the selected user for the nominated day.
​
Viewing Notes in the Reports Section
Click Reports on the left sidebar then select the Time & Activity tab. Work notes will be displayed in the Notes column, as shown below.
Work notes will appear next to the dates or time entries where notes were added.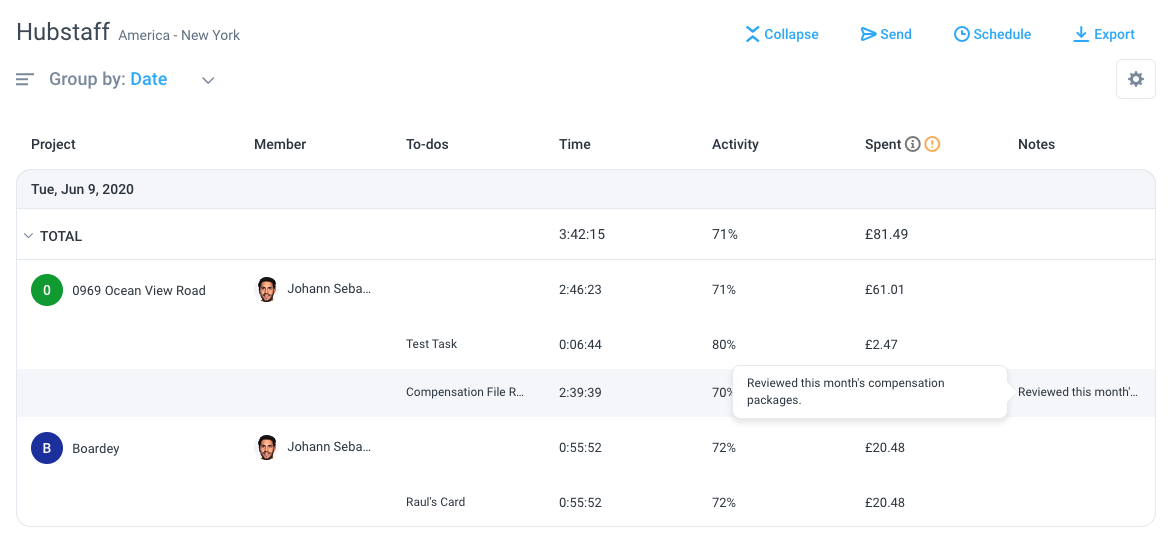 Viewing Notes in the Timesheets Section
Navigate to Timesheets > View & edit.

Select the Daily view. Work notes will appear on the column after the project name.