Level up your team's efficiency and productivity by using the Hubstaff Insights add-on.
---
With Hubstaff insights, you can view and compare activity benchmarks, as well as define productive and unproductive apps and URLs.
This feature is a paid add-on available on the Starter and Grow plans, and included in Team and Enterprise plans.
Add-ons are not available on free plans.
Organizations on Starter plans will not have access to productive/unproductive apps/URLs and productivity scores.
---
Table of contents
---
Signing up for the Insights add-on
To sign up for the Insights add-on, navigate to Settings & Policies > Billing.
On the Insights box, click Try it for free. This will start your 14-day trial.
If you'd like to continue with the paid version before the trial ends, click Add Hubstaff Insights. Insights are priced at $2/user/month or $20/year ($1.67/user/month when billed annually, billing is prorated and will be added to your next billing cycle).
The confirmation dialog will appear. It will display the total cost of the add-on as well as how many users count towards the price. Click Add Insights to continue.
All add-ons are automatically billed after a plan's trial expires.
---
Insights page
The Insights page can be accessed via the Insights menu on the dashboard sidebar.

Let's break down the insights page per section.
App and URL data required for the productivity metric is recorded using desktop apps. To see the functionality of each app, click
here
.
Navigation
The top section includes a snapshot of your team's productivity for ease of access to critical metrics. This includes the following:
Settings – allows you to define productive/unproductive URLs.
Date picker and timezone selector  – select the date range for the data you wish to view. You can also change the timezone when you select the daily views (today/yesterday).

---
Widgets
Performance highlights
The highlights section will show you differences in metrics between teams/members using the below stats:
Avg. activity (percentage)

per day/week/month.

Avg. worked time (hours)

per day/week/month

Avg. time gap (percentage) per day/week/month

Avg. core work (percentage?)

per day/week/month

Avg. number of projects and/or tasks worked on per day.
You can also toggle left and right on select cards to see more highlights about each user/team.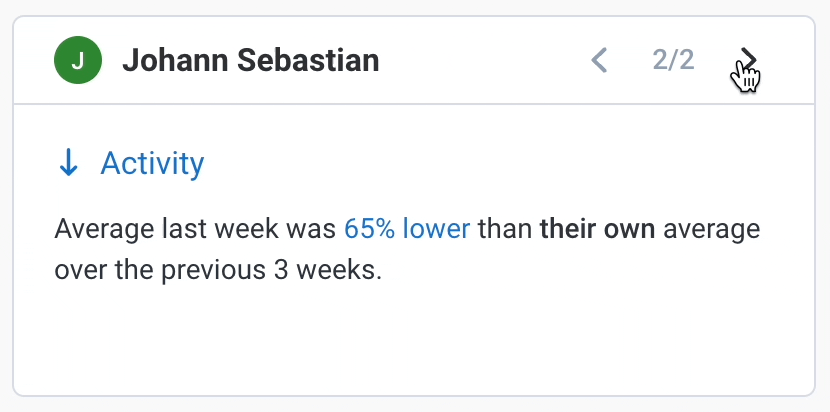 Utilization
– helps managers balance workloads by setting targets for how much their team should work and inform them when members are under or overworked. The bias should be on the left if a user is underworked and the opposite when the bias is on the right. This is based on the average work hours spent by your team members vs. the average work hours set based on their weekly limits.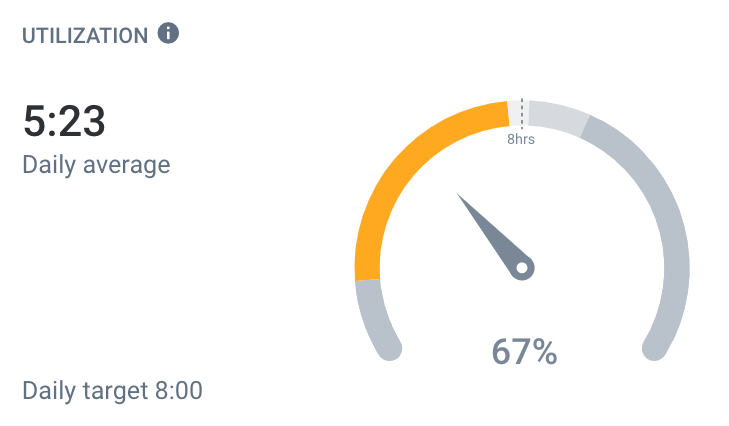 Work time classification
The percentage of core productive apps and URLs over total time spent.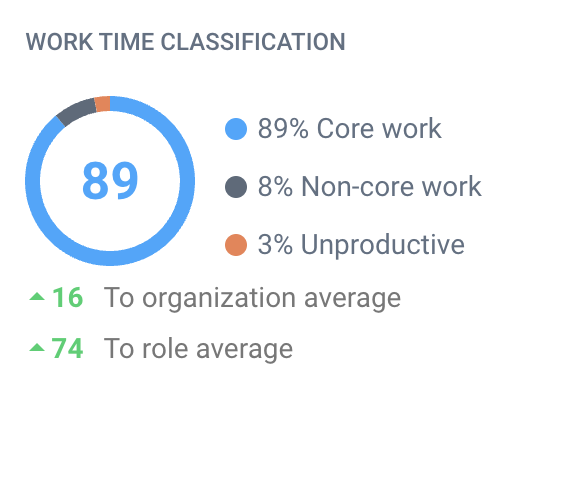 Example: An employee worked for 10 hours. Of that time, 30 minutes was added manually, the user was on unproductive apps/URLs for a total of 45 minutes. Their productivity score would be 87%, with this breakdown:
87% Productive

8% Unproductive

5% Unclassified
Activity
The percentage of keyboard/mouse activity against total time tracked.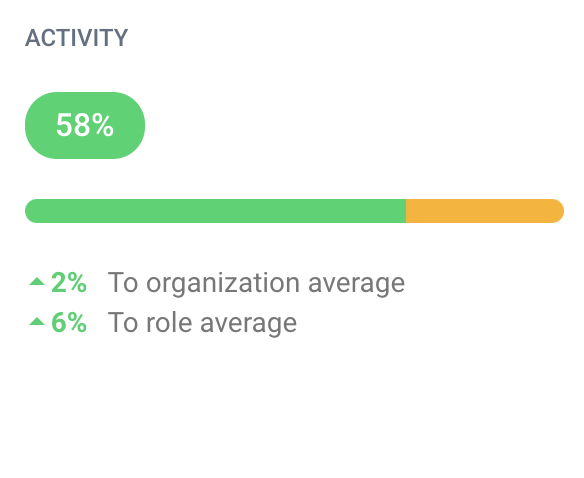 Top Apps & URLs
Top used applications and URLs within the timeframe specified.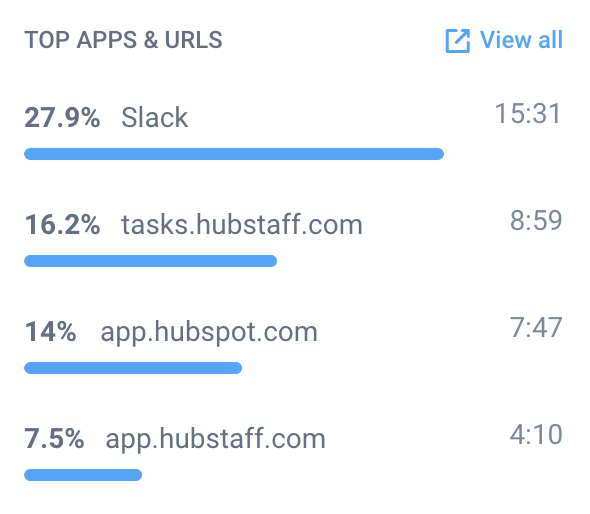 Daily focus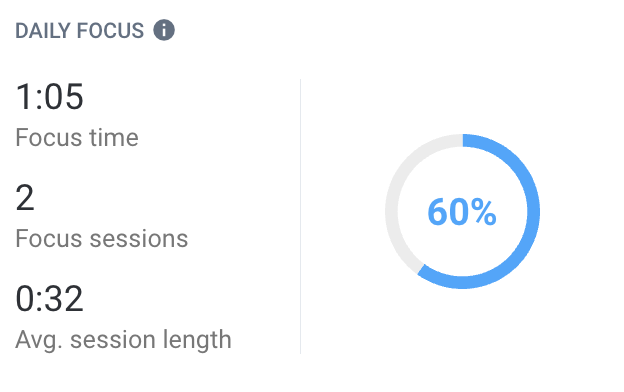 A focus work session is considered when members track time to one project or task for 30+ min without interruptions.

Metrics are calculated per member/day

The widget shows you how much time your team spends in focus mode.
Definition:
Focus time – Average daily total focus time per member
Sessions – Average # of sessions within the selected time period
Average length – Average focus session length, or duration, per member / da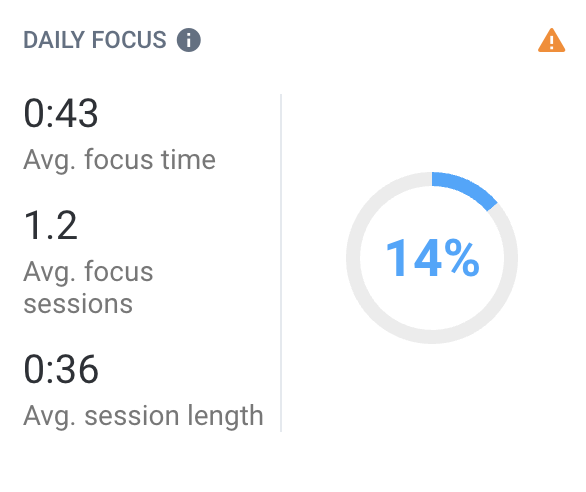 Meetings

Gain valuable insights by connecting your team's calendars. You'll know when:
Meetings are taking up too much time;
People distracted during meetings;
If meetings have too many attendees;
How many meetings are recurring
Amount spent on meetings
Work time expenditure
Apps and URLs visited by your team is grouped into categories are displayed here according to their classification.

Leaderboard
The leaderboard shows a descending list of team members based on productivity. It also shows each user's total time tracked, activity, productivity and any achievements they have earned.
You can also:
Apps & URLs
The Apps & URLs widget shows the top applications and websites used by your team in descending order. You can also hover over each app/URL then click the Edit classification button to be able to categorize or reclassify each item.
Categories
The categories widget displays the top recorded application and URL category types shown in descending order based on usage.
---
Benchmarks
The benchmarks toggle allows you to compare your organization's averages compared to your industry (i.e. hospitality, based on your industry selection) and/or to the average Hubstaff customer data.

Below is a sample comparing an organization's activity to industry average.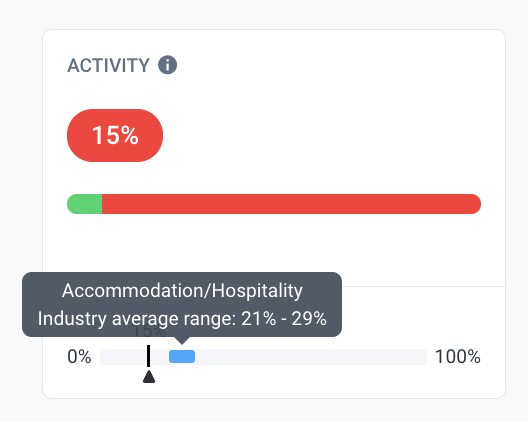 ---
Detecting fake activity
When Hubstaff Insights is active for your organization, organization owners and managers are notified about users employing software that mimic keyboard/mouse movements to produce fake activity.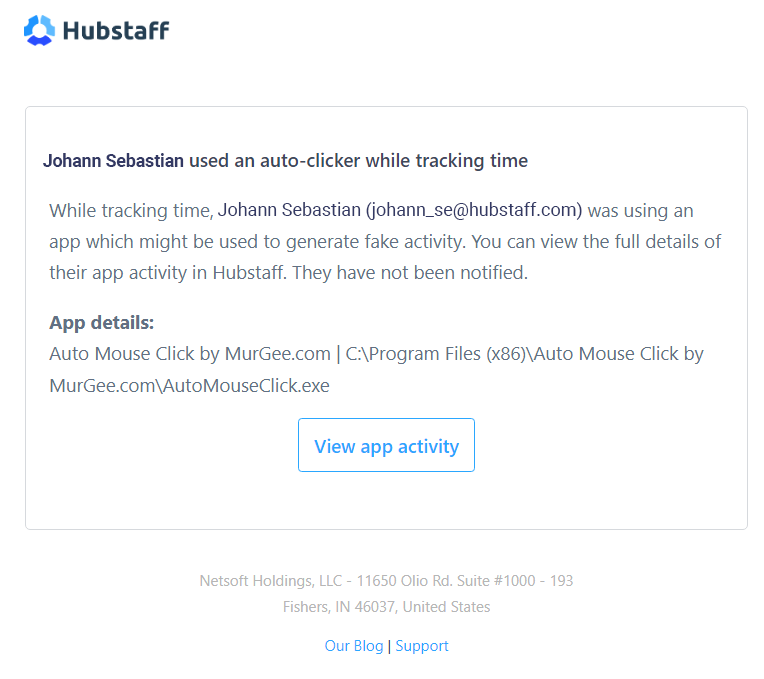 ---
Hubstaff Insights settings
To access the insights settings page, navigate to Settings & Policies > Features. Alternatively, you can navigate to the Insights menu on your sidebar then click Settings.
App/URL classification
Here you can classify apps and URLs as core/non-core work, and unproductive.