Question:
Can I recover the screenshots and activity data of a deleted user?
Answer:
When an organization removes or deletes a user, screenshots and activity data become hidden and eventually permanently deleted based on our data retention policy.
Only user-related data (activity/screenshots) becomes hidden and then eventually deleted. This will not affect past payments and reports related to the user.
Screenshots can be recovered by downloading or exporting them to your device. Alternatively, you may display this hidden data by adding the user back to the organization. To accomplish this, the organization will have to send a new invite email to the user. The data is accessible once the user activates their account by clicking on the Hubstaff link.
Only organization owners and managers in paid accounts are able to download screenshots.
The User has to activate their account on the same email address as the previously deleted one.
We retain data on our servers in accordance with our
Data Retention Policy
. The data is permanently deleted after the retention period ends and cannot be recovered.
How to download screenshots from your Hubstaff Dashboard
Go to the main navigation menu and click Activity ⇾ Screenshots to open the screenshots page. Next, click on the download screenshots button.
In the download screenshots pop-up dialogue that will appear, select the member's name and the date range of the screenshots you want to be included in the download. Hit Save to continue.
After saving, a dialogue stating, Your screenshots are being prepared will pop up. Click OK. This information can take up to a day to receive in your email. After that, you may click on the download link to begin a bulk screenshot download.
The link will be split into monthly date ranges if the date range is greater than a month.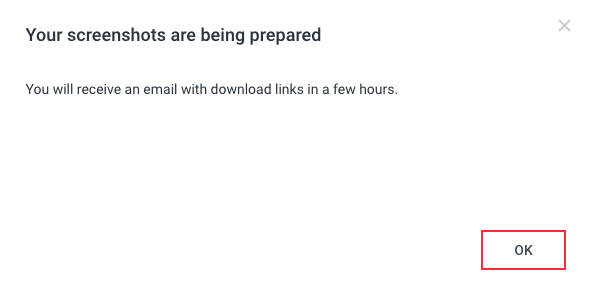 You may refer to the export screenshots article
here
on how to read the screenshots or export them to your custom tool based on Hubstaff's API using the Hubstaff Export Tool.
How to add a user back to the Organization?
Go to the sidebar and click People > Members.
Click the Invite member button on the upper right-hand corner of the page.
The Invite member dialog box will appear.
Enter the user's EMAIL, ROLE within the organization, and the PROJECTS they're assigned to, and then click Send.
Once the member accepts the invitation and registers, the system adds them back to the organization. They can then see their activity and screenshot data.
If you want to validate the email address of the removed user, you can use the FILTER  option on the Members page and turn on removed members.
Deleted screenshots can no longer be retrieved from the server.