Welcome to Hubstaff Talent! This guide is for freelancers posting credentials to gain employment. We look forward to helping you create a profile that will get you noticed. We want you to make connections to hiring professionals. This article will provide you the requirements to get your profile approved. After approval, your profile will be active on the Hubstaff Talent job board.
---
Table of Contents
---
Setting Up Your Personal Details
Go to the Hubstaff Talent Sign up Page and click on I am a freelancer.

Make sure you fill out all areas of the form with an * or you will not be able to proceed.
At Hubstaff we value transparency and accurate data. We only approve profiles that demonstrate those standards.
Name: (required) We need at least the first name, no nicknames, alias, or handles are not allowed.
Phone: (optional)
Skype: (optional) Make sure to provide your full Skype ID, otherwise it will do you no good.
Date of birth: (required) Hubstaff Talent requires an accurate date of birth.
You can choose to hide your date of birth on your profile but Hubstaff Talent requires it to use the services.
Hubstaff Talent requires you to be at least 18 years of age to use the services.
Add your location details:
Country: (required)
State/Region: (required)
City: (required)
Hubstaff Time tracking agreement: (required) It lets an agency know that you are willing to use the Hubstaff time tracking software to log your time.
Once complete, click Next to move on to the next step in creating your profile.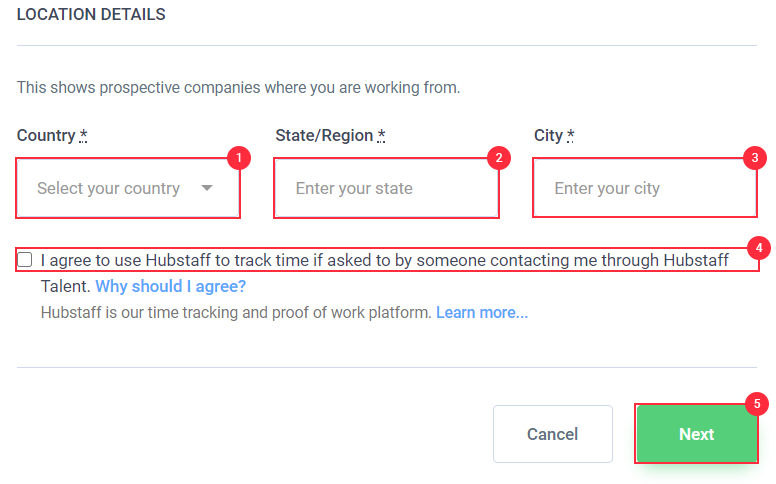 ---
Upload Your Profile Picture
When you set up a freelancer profile for Hubstaff Talent. One of our required policies is that you have a professional profile picture. We do this to assure you get the best experience from our job searching site. A nice profile picture will help attract more attention to your profile.
We understand that some may be nervous or uncomfortable sharing a real photo of yourself. This is a rule for all freelancer profiles.
Picture File Requirements:
File Size: 3 MB (or smaller)
File Types: JPEG, JPG, and PNG
We recommend to use 1 x 1 ratio for your pictures.
Below are a few examples of what your profile picture should look like. We have also included some examples of what it should not look like.
This is an example of a good profile picture:
Notice it is a full front-facing picture centered and clear. It can be a little off-center as long as you can see the face.


Examples of bad profile pictures:
Tell Us About Yourself and Your Skills
Specialty: (required) What positions do you want to fill for a potential employer. This area should specifically target the position you wish to fill.
About me (Recommended 400 words): (required) This is a summary of what you offer as a freelancer. This should not be your resume or cover letter. You do not want to be too short or too long in the about me section. You have 60 seconds to grab the attention of the hiring professional so make it count.
Refrain from mentioning the other freelance platforms you may have already worked. You can state the fact that you are an experienced freelancer on other platforms, but don't name them.
Languages: (required) List the languages you can offer here. You need to be proficient in the languages you list here.
Skills: (required) We recommend posting 5 to 10 key skills that you can offer that are targeting the positions you want to fill. Hubstaff Talent will reject a profile that lists more than 10 skills. It may seem that 10 skills do not cover what you have to offer a client and you can do much more. Don't worry, concentrate on your core skills and choose what your potential client is looking for.
Example: Virtual Assistant Position
You may want to add Google Suite and MS Office instead of very basic skills like Excel to PDF. Or, alternatively, you may add such skills as data collection, data entry, but put different programs that you know (the same Google Suite) somewhere in the About me section.
Example: Operations Assistant Position
Add a core skill like Automation of routine operations. Then use the About me section to share the tools you may be using, e.g., Python, AutoIt, Selenium.
You might want to add your soft skills describing your personality. Again, the About me section will be perfect for that!

Experience: (required) For the positions you have listed under specialty, how many years experience do you have? We understand that your overall experience (that may include other positions) may be richer. If you want, you may describe your professional experience in the About me section.

---
Your Requirements for Employment
Pay Rate ($/hr): (optional) What wage do you desire in the position? You can leave this area blank if your pay rate is negotiable. Note, hiring professionals often use this field as a search option.
Hubstaff Talent the lowest pay rate you allowed on Hubstaff Talent is $2/hr.

Profile Visibility: (Required)
Who do you want to see your profile?
Everyone – This option is searchable in web browsers like Google Chrome, Firefox, and Safari. Your page will visible to any third party sites. This will increase the chances that somebody will find your profile while searching. Even though they may not be a member on Hubstaff Talent.
Only logged-in users – Your profile is not seen in the major search engines. It will only be available to members and agencies that are logged in to their accounts with Hubstaff Talent.
Only me – Not searchable in web-browsers, only visible to you. You may use it if you want to hide your profile for a while.
Not only will search engines be able to read your profile, but any third party will be able to do it and later use it for their needs. Hubstaff Talent won't be able to detect such behavior or control your data usage. Even if you decide to hide or delete your profile later. The same may be the case with the search engines. Once search engines grab information from sites they store it in their databases. Hubstaff Talent has no control over these databases. It can take some time before they are completely removed. You may learn more about Hubstaff's data handling and protection.


Availability for work?: (required) How much time can you dedicate to a new project for a client?
Hourly ($/hour)
Part-time (20 hrs/wk)
Full-time (40 hrs/wk)
Not available
Once complete click Next to move on to the next step in creating your profile.

---
Web Presence
Only add a company in these two cases:
You are an owner of this company
Company is the agency that also has its own profile on Hubstaff Talent.
Name: (optional) name of the company or agency
Title: (optional) what position do you hold in the company/agency
Website URL: (optional) website for the company/agency
---
Personal Websites
Homepage: (optional) Your personal website
Portfolio URL: (optional) Your personal portfolio page if you have one.
Code URL: (optional) This can be a portfolio page where you show the source code of the programs you have developed.
Only post code URL(s) that show your personal code creation. The same goes for portfolios: add the links to your personal creations.
You do not want to add links to the following:
Agency portfolio page
Your Hubstaff Talent profile portfolio
Another hiring platform
You can create a portfolio page here on Hubstaff Talent.
---
Social Networks
Adding social network(s) is helpful but not required. You may or may not want to share your personal life or may not have social media profiles. Please, don't create off-hand pages to post on your profile.
When adding a social network make sure that the account is open for public access.
When posting a social media account you will want to verify the following.
Content is appropriate
Posts are professional
Verify that the address you are entering is a link to your account on the social media sites. Do not post the social media homepages listed below.
You may proceed by clicking Next or simply Skip filling this information.
---
Resume
Uploading a resume is highly recommended because individuals who add resumes are more likely to get noticed and contacted by potential employers. A strong resume is a great way to showcase your talents and work experience, making it easy for employers to determine whether or not you'd be a good fit for what they're looking for.
Accepted file formats: Adobe PDF (.pdf), Adobe PostScript (.ps), Microsoft Word (.doc, .docx), OpenOffice Text Document (.odt, .sxw), Plain text (.txt), Rich text format (.rtf)
PDF is the most reliable document to upload. If your document has issues being converted by Hubstaff Talent, please convert it to a PDF and reupload it.
Email addresses will be stripped out of the resume. We do this to prevent spam. However, you may additionally remove all the contact information from your resume. Potential employees will be able to contact you via Hubstaff Talent Message Center.

Don't worry if you don't have your resume right now. You will be able to add it later. Plus it's not obligatory. So, just Skip and finish. Otherwise, upload the resume and Finish your profile. Congratulations!
---
FAQ (Frequently Asked Questions)
Question:
I completed my profile why can't I search for jobs?
Answer:
Our Talent Team reviews profiles as they come in (first in, first out). This may take up to 1-2 business days. This turnaround time may be faster or slower depending on the number of profile review requests we receive. Each job post undergoes a thorough review process. This is to help make sure only the posts which meet our high standards.
Question:
I edited or updated my profile, now I can't message employers or search for jobs?
Answer:
When you edit your profile it is placed on hold and submitted for reviewal to approve the updates.
Question:
How do I know if my social media account is open to the public?
Answer:
Open a web browser that you do not have an automatic login to the account. Check to see if the profile loads or if you get a content restricted error message.
Question:
I deleted or changed my profile to private, why can I still see it when I search in Google?
Answer:
Once search engines grab information from our site, this can include your profile, resume, and/or any portfolio items you may have uploaded to Hubstaff Talent. Search engines store this information on their databases. Hubstaff Talent has no control over when these databases are reset or cleared. It can take around 2-3 months before they are completely removed from the web. You can also manually request content removal from Google by clicking this link.
Question:
What languages can I post my profile in?
Answer:
Profiles are required to be in English.
We are trying to make everything on the site use a common language. Since most of our users speak English, it will help your profile get more views and attract more leads.
If you have any questions at all, you can always find us at https://hubstaff.com/ or our help desk at https://support.hubstaff.com/