The Hubstaff desktop applications allow you to configure various preferences via the settings page to customize how you track time.
First, click on the menu […] icon located on the top-right corner of the app.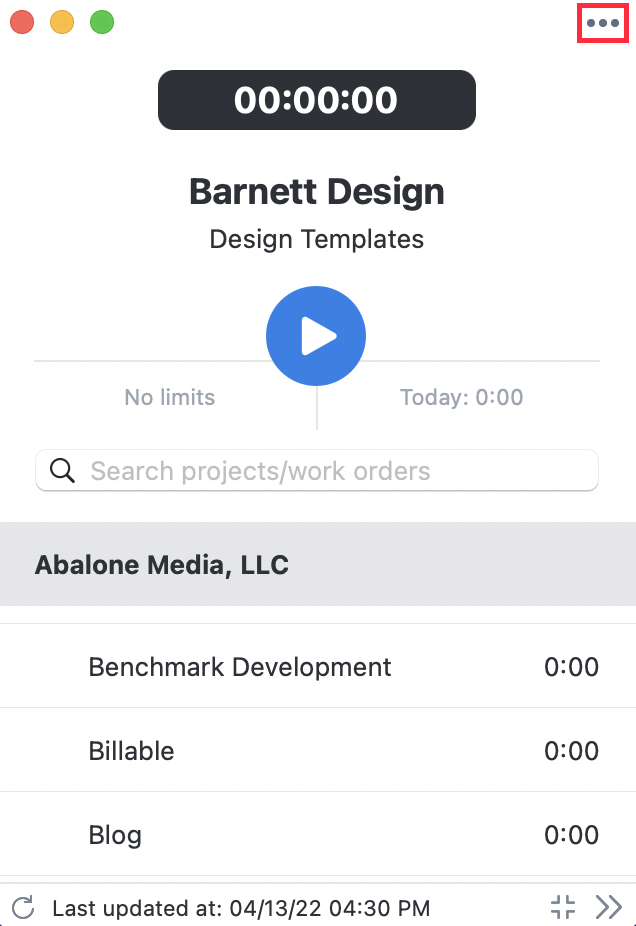 Select Preferences.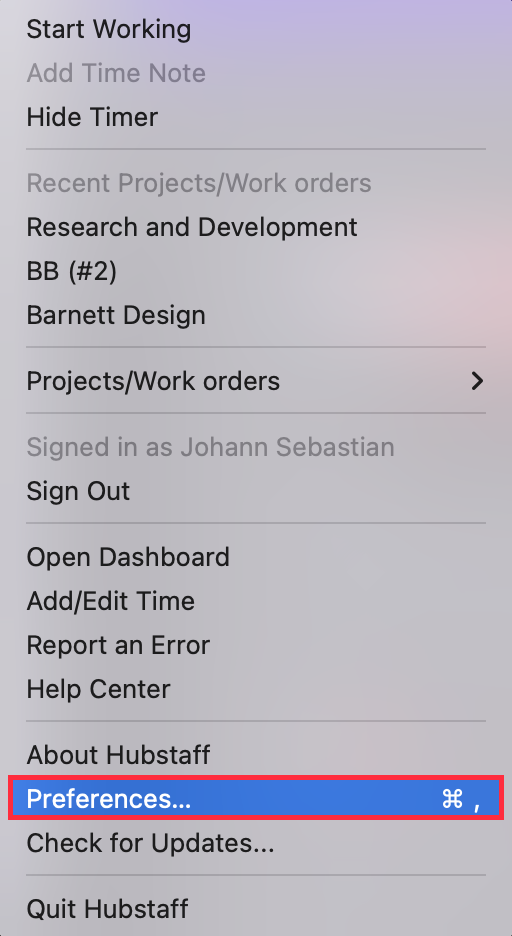 You can also click/right-click the Hubstaff icon in
the system tray/taskbar to bring up the menu.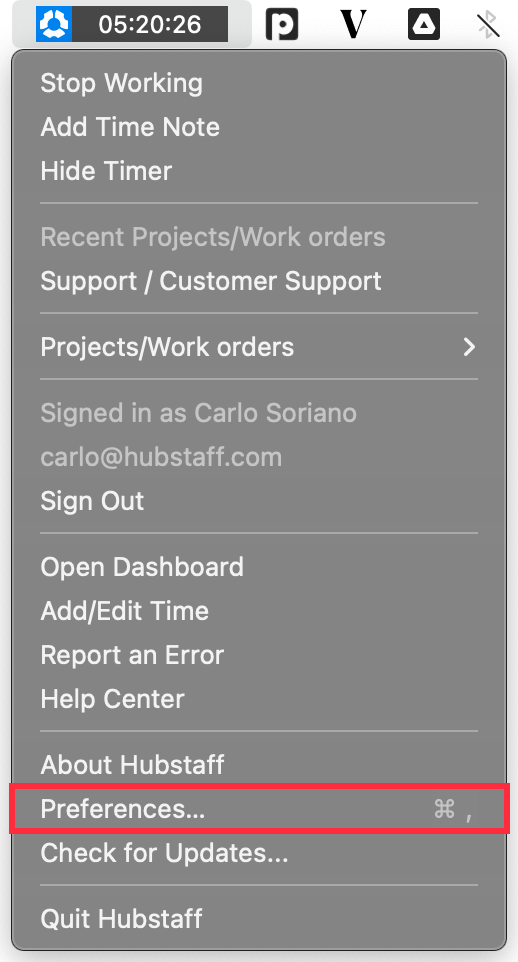 ---
General Tab
First, you'll see the General tab where you will see the following options:
Windows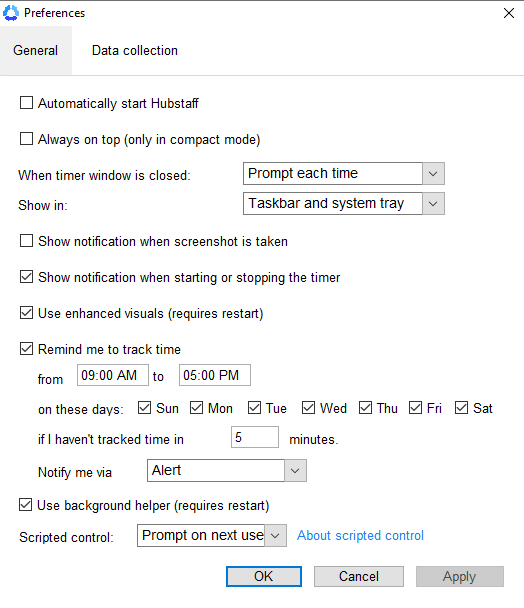 OSX
The preferences allow you to change the following settings:
Automatically start Hubstaff – starts the app when your computer is starting up.
Always on top – the app will stay on top of other applications (only available in Compact mode).
When the timer is closed (Windows only) – how pressing the "X" button to close the app will work:

Prompt each time: Lets you choose if you want to minimize or exit Hubstaff (default)
Minimize: This will minimize the app when you click the "x" button
Quit Hubstaff: This will stop Hubstaff and close the application.

Show in options (Windows only):

Taskbar and System Tray: In this setting, you'll have an active window on the Taskbar and the Hubstaff icon on the System tray.
Only in the system tray: In this setting, only the Hubstaff icon is visible in the System tray.

The Reminders option will help you in managing your working hours. It's an alert system that lets you know if you are not yet login to Hubstaff on the usual time/ day of time-tracking. The minimum amount is 5 minutes.
Use background helper – allows the app to easily record other activities such as app and URL recording.
Scripted control – allows organization administrators and users to access the app remotely. Click here to learn more.
The Hubstaff desktop application 1.5.15 build for Windows, Mac, and Linux has the screenshot notification setting turned on by default.
---
Data Collection Tab
The Data Collection tab of the preferences and settings page is where you can configure what type of information is recorded while tracking time.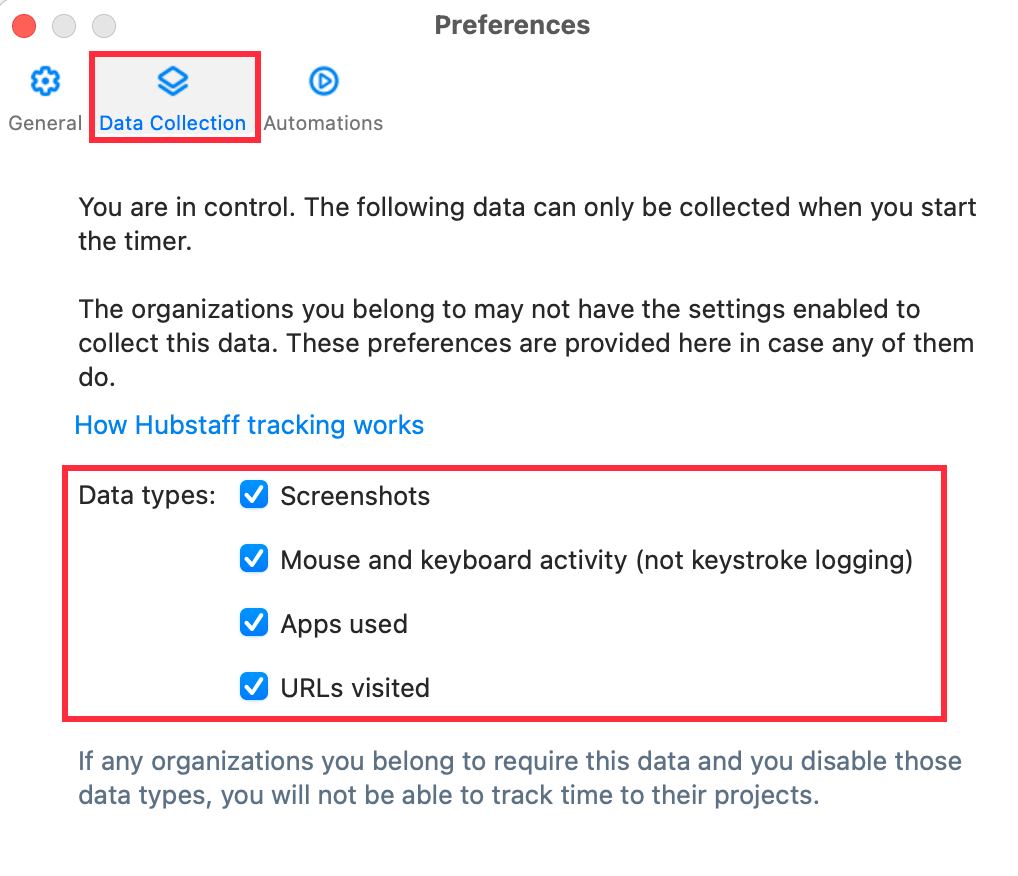 On Windows and Linux:
After selecting your preferences, you can then click the Apply button and OK for these settings to take effect.