Dashboard Team and Me Widgets
The Hubstaff dashboard allows you to view a snapshot of your team's overall activities and performance, all in one central location with widgets for every performance metric available.
Your dashboard contains dashboard widgets that you can manage, remove, move around, and interact with. You can also access organization settings, timesheets, reports, and other aspects of Hubstaff information for you and your team.
There are multiple ways to manage your widgets and you can choose whether you're looking at your team's data or your own by selecting the Team or Me tabs.
Depending on the industry chosen during signup, you'll see different sets of widgets available designed with each use case in mind. Below is a screenshot of the Field Services dashboard which features a map to easily track your fleet.
Screenshot of the Field Services dashboard.
---
Table of Contents
---
Managing Widgets
You may add/remove widgets by clicking on the Manage widgets button located towards the top right corner of your dashboard.

Removing widgets is a breeze via the three-dotted menu . First, click on the menu buttons on the widget and then click Remove.

You can also access the different widget options via the three-dotted menu. Some widgets have additional options relevant to the specific widget which you can access by clicking on the menu button for the widget and then selecting the option you would like to manage.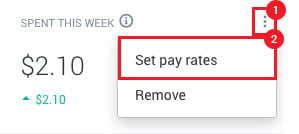 Dragging & dropping (moving) widgets. You can grab a widget and drag it to where you would like it to be and easily customize widgets and layouts on your dashboard.
---
Widgets List
Below is a list of all available widgets: