Work session reports allow you to display and/or download timer start and stop data for yourself or your team. The report also contains specific details for each session, such as clients, projects, members, to-dos/jobs, how much manual time was tracked per session, session duration, and activity levels per session.
---
To generate a work session report:
Navigate to Reports > All Reports.
Under the General menu, click Work sessions.
The work sessions report will appear.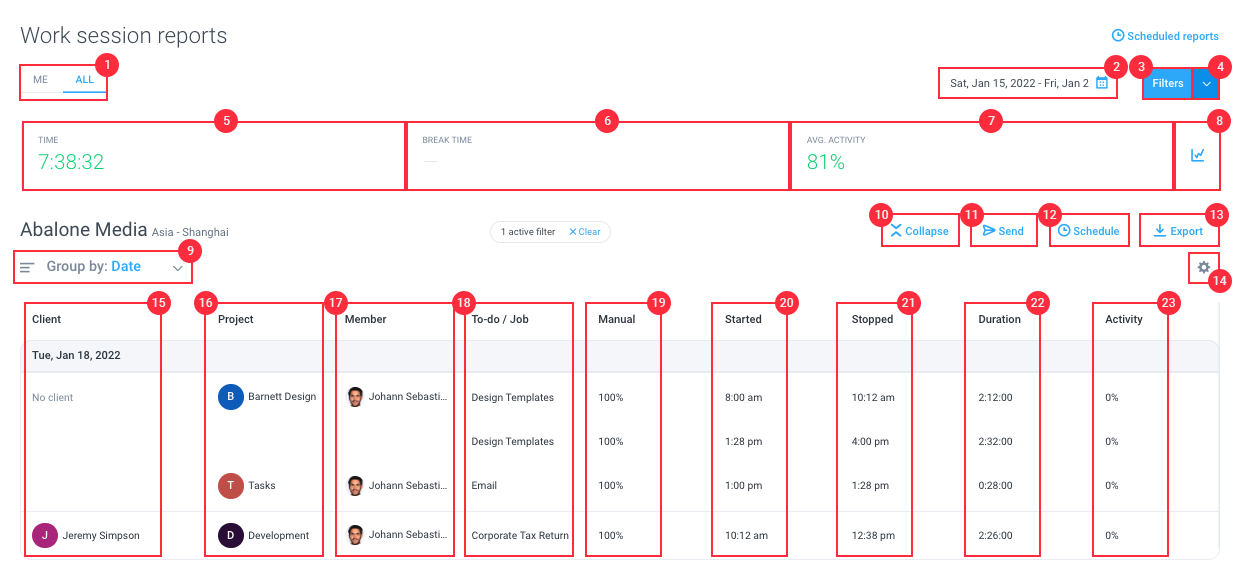 Me/All tabs – the "Me" tab shows the data you tracked as a user, and the "All" tab will display all data you have access to within your organization. If you are a project manager, you'll be able to view data for all the projects where you are a member. If you are the organization owner, you'll be able to view all data within the organization.
Calendar – lets you select the date range for the data you wish to report.
Filters – clicking on the Filter button will let you choose which filters you'd like to apply. For this report, you can filter the data by teams/members, projects/work orders, clients, to-dos/jobs, activity level, time type, and source.

Saved Filters – lets you save the filters currently applied to the report for future use.
Time – shows the total time tracked based on the date range selected.
Break Time – shows how much break time was tracked within the selected period.
Average Activity – shows the total time tracked based on the date range selected.
Graphs – shows you a daily trend graph based on the data range selected.
Collapse – collapses the report.
Send – lets you send the generated report to an email recipient. You can send the reports to multiple recipients by separating email addresses with commas.

Schedule – allows you to schedule a report to be sent. You can choose to send the report in CSV or PDF formats, choose the date range, frequency, and delivery time of the report.

Export – lets you export the generated report in CSV or PDF format.
Client – displays the client assigned to the project.
Project – displays the project where the time was tracked.
Members – displays the names of the member/s who tracked time.
To-do – displays the tasks/to-dos where the time was tracked.
Manual – shows the total manual time tracked within each session.
Started – shows the time the timer was started.
Stop – shows the time the timer is stopped.
Duration – displays the total duration per session.
Activity – shows total activity levels recorded within each session.