You can manage your payroll accounts under the Payments section.
Click on the Financials tab and then select Payroll on the left sidebar.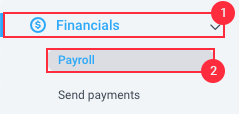 That will bring you to the Payroll page and you have to click on the Manage integrations button.
After clicking Manage Integration, the Integration page will open up.
The following options will be available on that page.
Add integration if you need to add another payment partner.
Edit your existing Payroll integrations:

Setup Instructions
Reauthenticate – reauthenticate your payment account
Remove – remove your payment integration
For frequently asked questions regarding how to manage payroll accounts, please refer to our automatic payroll FAQs here.
For an in-depth article comparing different payment options, click here.