Changing list names in Hubstaff Tasks is easy. Just follow the steps below to change List name and type in a project.
You can click the name of the list or you can click on the menu icon then choose List Settings.


Type the name of the list and once done, hit ENTER or click on the checkmark to save changes.

You can also click on List Settings,  click on the list type drop down to choose the type.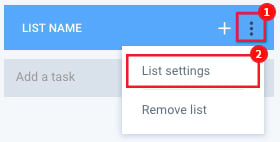 List type can be set to Normal or Done. The Done setting will add a Complete button to the task on the Hubstaff timer when Tasks is integrated.