The Hubstaff corporate app allows organizations record team productivity on company-managed/owned devices in the background.
The Hubstaff Corporate App is currently only available on Windows.
This feature is only available on Enterprise plans.
---
Table of contents
---
Account provisioning
Account provisioning refers to the process of adding team members without the need for a confirmation email. This makes it more convenient for corporate customers to add single users or in bulk. To learn more about how to do this, click here.
---
Creating a corporate automatic tracking policy
After creating users, you'll need to add them to a corporate automatic tracking policy. To add a new policy:
First, navigate to Settings & Policies > General.
Next, go to the Timer & Tracking tab, click Add policy, then choose For company-owned computers.

Fill in the following:
Policy name
Teams/members
Automatically add new members to this policy (optional)
Timer start/stop rules

All time – records activities as long as there is computer activity.
Fixed schedule – record activity based on a custom fixed schedule.
Shifts – record activity during scheduled shifts.

Don't start timer until first activity – this means the recording won't start until there is any detected keyboard/mouse activity.
Days of the week and start/stop times – set the days and times the timer will start tracking time.
Starting project – this is the project activity will be logged into when the timer starts.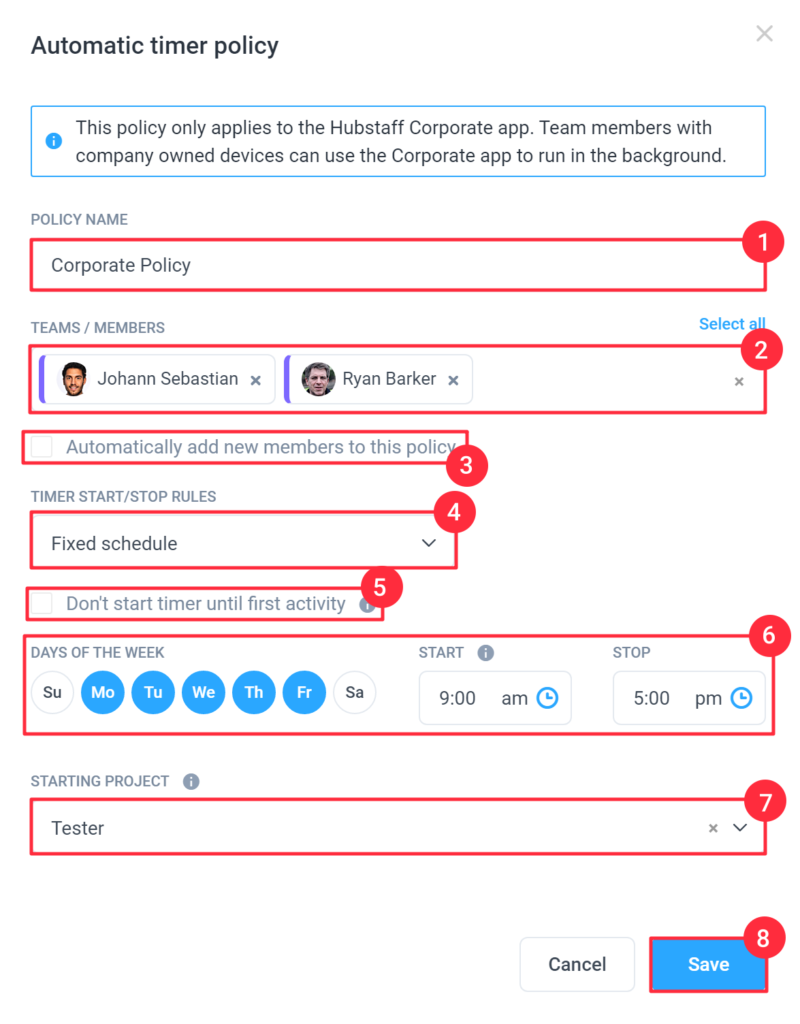 Hit Save to commit your changes.
---
Download and installation
First, you'll need to download the app via https://app.hubstaff.com/download/corporate.
The corporate download page is only available to users who are on the Enterprise plan.
Navigate to the folder where the downloaded file is located, then open the file.
Click Next on the setup page.
Then, choose the install location.
Finally, click Finish to complete the installation. You can also choose to run the app after the installation is complete.
Opening and signing into the corporate app
The Hubstaff corporate application allows administrators to sign in to a user account and begin tracking time and activities.
You can now open the corporate app by searching the start menu items for "Hubstaff corporate", then clicking on the Hubstaff Corporate icon.
Click on Sign into your admin account to authenticate your administrator account.
Next, you'll be taken to a web browser where you can sign in with your Hubstaff admin credentials.
If your organization has 2FA enabled, you'll also be asked to login via 2FA.
Finally, the app page will open. Note that by default, the administrator account is signed in.
Logging in a user and start tracking activity
To login to a User account, first click Sign out member on the top right corner of the app.
Next, enter the user's email address, then click Sign In.
Click on Next.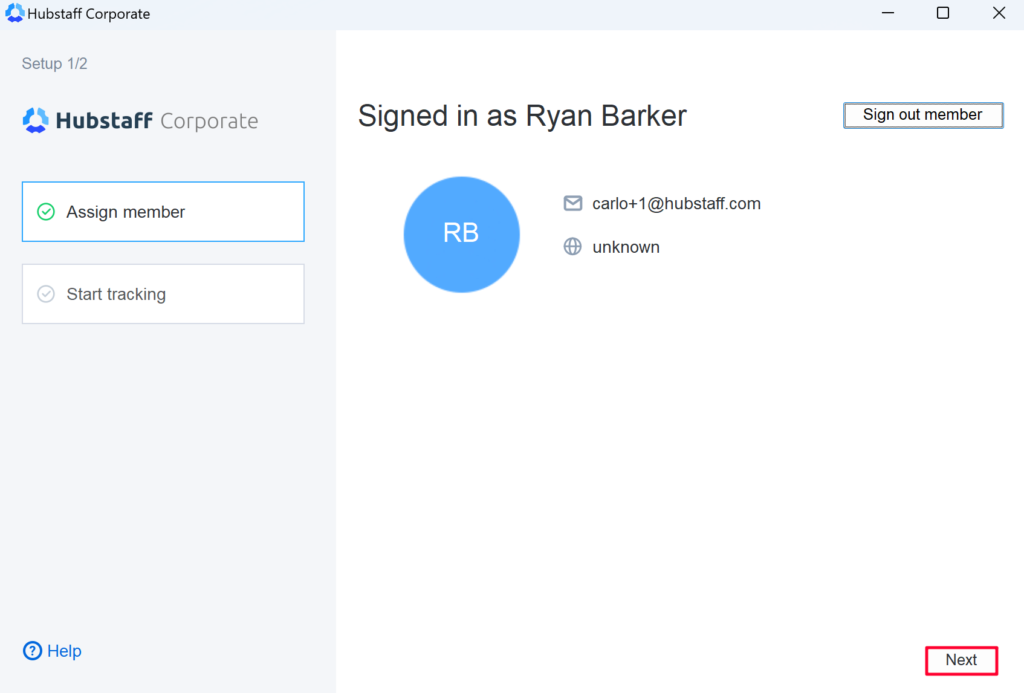 Click Close and run in background. After clicking the button, time and activity recording will begin.
Below is a sample of activity tracked using the corporate app: