Using the web timer
Hubstaff now offers a web timer built right into the website that can be used without needing to download or install anything!
Here is how to use the new web timer:
You will see the web timer shown in the top left of the screen next to the Hubstaff logo (It is visible on all pages on the site). When clicked, it will open up the web timer window. You will be able to choose the project you wish to track time to, as well as any tasks that are assigned. Click on the Play button to begin tracking time.
When you begin tracking time, the timer will turn blue. You will see the time tracked during that session, as well as the total time that has been tracked for the day.
The timer can be minimized to a smaller version by clicking the minimize button (1), you can also restore the timer by clicking on the downward arrow at the bottom of the app (2).
Any weekly limits that have been set will also show on the timer, as well as the remaining balance.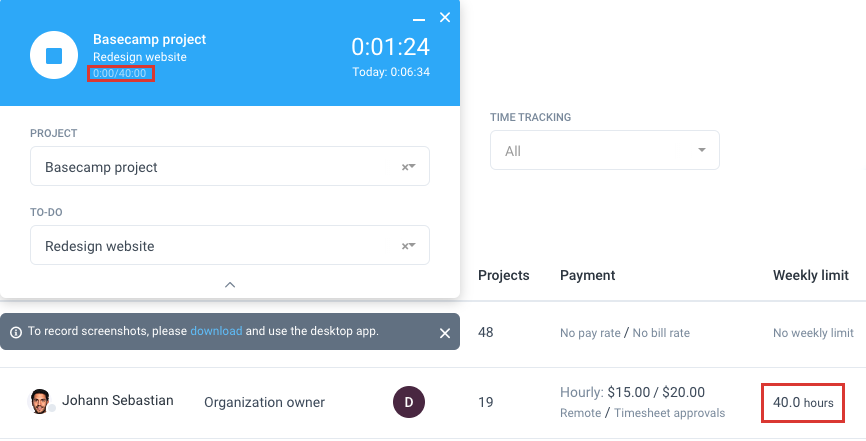 Press the Stop button to stop recording time.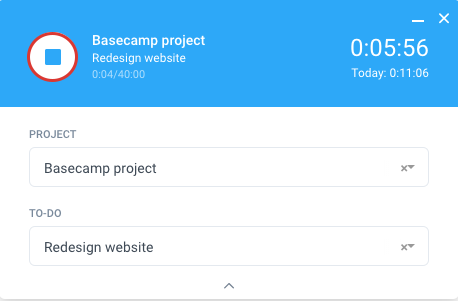 Once the timer is stopped, you'll see the time you recorded via the Timesheets -> Daily page.
Note: The web timer can be clicked and dragged anywhere on the page to ensure it does not cover or block any of the information on the pages you are viewing.
Note: The web timer is a great way to easily track time right from the site. However, if you wish to have the full set of features that we offer (screenshots, activity percentages, URL and App tracking), you will want to install one of the dedicated desktop clients. They can be downloaded here.
Note: Be sure to press the stop button once you are done! If you close your browser while the timer is still running, it will not automatically stop.