At Hubstaff we have the option of subscribing monthly or annually to either a Basic, Premium, or Enterprise Plan. You can upgrade/downgrade your plan anytime and the unused credits will be applied to your next plan.
Navigate to Settings > Billing.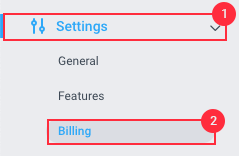 Click on Change plan.
You'll be taken to the plan selection page. First, select either the Annual or Monthly plan. Annual plans offer an additional 17% discount or 2 months free.
Choose either the Basic, Premium, or Enterprise plan.
If you have a coupon code, please enter it before upgrading. Next enter your name on the card, the card number, expiry date, CVC, and the ZIP/Postal code then hit Save.

You'll be taken back to the Billing page which will display your new plan.
You'll also receive a popup saying that your billing information was updated.
A confirmation email will also be sent to the email address registered on your Hubstaff account: