Question:
How to download a Hubstaff receipt and add your billing information?
Answer:
To see your subscription's receipts, navigate to Settings > Billing.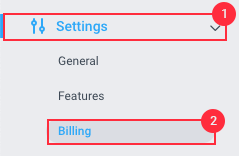 You'll be taken to your Billing page, where you can have quick access to your billing history.
The billing history dialog will appear, where you can also download, view, or email your receipts if needed.
You have the ability to enter additional information like VAT, taxes, company info, etc. on receipts. Once you add the required information, you may download the receipts in PDF format with the added information. Examples below:
You can also choose to be receive billing receipts monthly through your own or another email address as shown here: